(Affiliate disclosure: I may receive a commission if you purchase something through links in this post. As an Amazon Associate I earn from qualifying puchases. See more details here:)
For our ancestors, winter was usually thought of as an enjoyable time of year even though the weather was cold. Especially for those living in agricultural societies, winter time was often a time of less work and more leisure time, and this slower pace meant that winter was a more peaceful time for relaxation and rest. This old-fashioned view of the cold weather months, and of life in general, is something that the Danish people embrace with their concept of hygge.
Hygge is pronounced something like "hue-gah" (although for months I had read it like "higgy" so that's still how it sounds in my mind!), and there's no direct equivalent for this word in English.
What is Hygge?
Hygge is a way of living that encompasses several themes such as coziness, comfort, warmth, contentment, connection with others, and an awareness and enjoyment of the simple pleasures in life.
I've seen several different definitions of hygge, and it seems like a word that isn't really easy to translate the full meaning of into English, but from what I've read the overall idea that seems to stand out the most to me is creating coziness. The word "cozy" seems to evoke connotations of warmth and light during some of the darkest and coldest months of the year.
How Can Hygge Improve Our Health?
Hygge is all about gaining an awareness and an appreciation of the simple things in life and finding ways to create an atmosphere of comfort and warmth and joy. The hygge lifestyle is something that the Danish embrace year-round, and hygge is something that you can do during other seasons like the springtime, too, but it's especially important during the cold, dark winter months. The extra focus on finding ways to be cozy and warm and enjoying the beauty around us can help to make the winter months more bearable.
The practice of hygge is also the perfect antidote to our often busy, stressed lifestyles. When our days are filled with rushing from one thing to the next, meeting deadlines, constantly multitasking, and information overload, hygge can be the reminder we need to slow things down, even if it's just for a little while, and focus on rest and on enjoying the simple things. By finding little ways to practice the hygge lifestyle, we can create little pockets of coziness and rest for ourselves to help balance out the busyness of our daily lives.
10 Ways to Practice the Art of Hygge:
1) Get cozy with lots of blankets and quilts and pillows. The more the merrier when it comes to getting cozy! Having lots of warm blankets and quilts really helps with the winter chill, and the beautiful colors and patterns can help to brighten up the darker winter days and nights.
2) Sit by the fireplace or, if you're like me and you don't have one, you can light candles to add a cozy ambiance to the room. I like to use beeswax candles because they don't add toxins to the air like some candles do. On the darkest winter nights where the sun sets really early, it really makes things seem a bit brighter when you have lots of indoor lights. And even though natural light from a fireplace or candle might be the coziest, if you don't have either of those options then a couple of strings of white Christmas lights can do the trick, too, to make things seem warmer and brighter.
3) Read a good book. Fiction or non-fiction, the genre doesn't matter as long as it's something you enjoy reading and something that makes you feel like you're taking a break.
4) Unplug for a while by turning off your phone, computer, TV, etc. and focus on enjoying some old-fashioned simple pleasures, like reading. Or spend some time doing your favorite creative hobby, or playing a musical instrument (or listening to someone else play), etc.
5) Indulge in your favorite comfort foods and snacks. My favorite is anything with chocolate, like this chocolate cake, but savory comfort foods are perfect for the hygge lifestyle, too. The colder days of winter are a great time to spend more time indoors and experiment with trying out some new recipes, too, if you enjoy cooking and baking.
6) Plan cozy get-togethers with friends. Have a potluck dinner or a game night or start a book club.
7) Enjoy a warm cup of your favorite hot beverage: tea, coffee, mulled cider, hot chocolate, etc. There's something about holding a warm mug and sipping on a hot drink that just makes you feel warmer all over.
8) Treat yourself to a luxury comfort item. My family recently got this little space heater for the bathroom, and it's so much nicer to get out of the shower and have the room be warm and cozy instead of freezing cold like it used to be! You could also buy or make one of those heat packs that you can warm up in the microwave and put over your shoulders to warm up, or turn on a heating pad, to keep the winter chill away.
9) Put on some warm, cozy socks or an extra sweater. The more layers the better, and it's even cozier if you use nice soft fabrics that are really comfortable.
10) Take a few moments to appreciate the beauty around you. Look out the window and enjoy the beauty of a colorful sunset or watch the sunlight shimmering on the snow and ice. Focus on being more aware of your surroundings and notice the details you might normally miss. Even though we often think of winter as a dark and cold season, it can be really beautiful one too!
Do you have any other good ideas for embracing the hygge lifestyle? Let us know in the comments!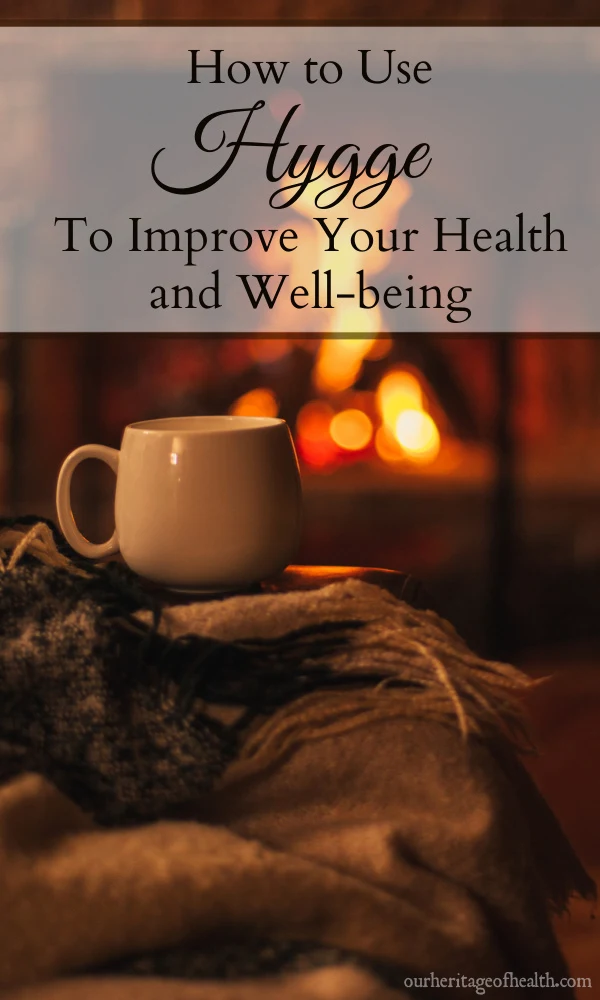 (We are a participant in the Amazon Services LLC Associates Program, an affiliate advertising program designed to provide a means for us to earn fees by linking to Amazon.com and affiliated sites.)
The information in this post is not to be taken as medical advice and is not intended to diagnose or treat any disease.