(Affiliate disclosure: I may receive a commission if you purchase something through links in this post. As an Amazon Associate I earn from qualifying puchases. See more details here:)
The art of hygge is something that has become more and more popular in recent years. Hygge is usually associated with the cold, dark winter months, but hygge isn't something that needs to be limited to just the cold months of the year. Practicing hygge in the spring can be just as enjoyable and as rewarding.
Hygge (usually pronounced "hoo-gah" or "hue-gah") is a Danish word that doesn't have a direct translation into English. Some of the connotations associated with hygge include the ideas of creating an atmosphere of warmth, light, comfort, and connection; an awareness and appreciation for the beauty and joy around us; enjoying simple pleasures; and the feelings of coziness and well-being.
Hygge in the fall and winter often involves things like reading a good book by a fireplace or enjoying a candle-lit dinner with family or friends, but there are lots of ways to enjoy the practice of hygge in the spring and throughout the warmer months of the year.
Here are a few of my favorite ways to practice hygge during the spring time:
12 Ways to Hygge in the Spring:
1) Open Some Windows
Clear out all of the stale air from having the windows closed up tightly all winter and let the fresh spring breezes fill your home with the scents of springtime.
2) Spend Time Out in the Sun
After the dark days of winter, nothing feels quite as good as the bright, warm, spring sunshine. Many people like to incorporate light into their fall and winter hygge routines by using candles or lighting a fire in the fireplace, but a good way to enjoy the light in the springtime is to spend time outside soaking up the brightness of the sun (and getting a good dose of Vitamin D too!)
3) Bring Some Fresh Flowers Inside
All of the cheery blooms are one of the best parts of springtime, and instead of just enjoying them when you are outside, you can bring some of those colorful blooms inside your house to enjoy all day long. I just picked a few branches from the forsythia bush in my backyard and put them in a vase in the kitchen window, and every time I walk by I get to enjoy the bright yellow color.
4) Go Foraging
Foraging has long been a traditional spring time practice, especially for people living in earlier centuries who weren't able to shop at grocery stores during the winter time. After a winter season with very little fresh foods, the spring time was always a much welcomed chance to forage for fresh spring greens and herbs. (You can read more about foraging in this post if you're interested in trying it:)
5) Go On a Nature Walk
A great way to hygge in the spring is to go on a nature walk so that you can fully immerse yourself in all of the sights and sounds and scents of springtime. Taking a little bit of time to go for a walk in the woods or to hike a nearby nature trail is a refreshing way to celebrate the spring time.
6) Enjoy the Fresh, Light Foods in Season
Once the days start getting longer and warmer, it's a great time to start shifting your diet from all of the heavier, warming winter foods like root vegetables and begin to add in some lighter, fresher foods that are in season like greens, lettuces, asparagus, peas, and strawberries.
7) Notice and Celebrate the New Growth
Depending on where you live, it sometimes seems like the end of winter keeps dragging on forever, so it's always encouraging to take note of the first little signs of spring coming. A great way to hygge in the spring time is to really pay attention and notice all of the little details like the tiny buds on the trees, the songs of birds that you don't hear during the winter, the first robin, the first crocuses, etc.
8) Declutter and Get Rid of Things You Don't Need
Spring is traditionally associated with spring cleaning, but that can mean more than just dusting and sweeping. Spring is the perfect time to clear out some of the clutter in your home and get rid of some of the things you no longer need or want. Reducing extra clutter can go a long way toward making your home feel lighter and fresher and more enjoyable to live in.
9) Make Plans for Planting
Planting something is a perfect way to celebrate spring time. If you have enough space in your yard, planting a garden is a great way to enjoy growing vegetables or flowers, but even if you don't have room for a garden, you can still plant seeds in pots on your patio or on your windowsill and enjoy the process of watching them sprout and grow. And if you're new to gardening and want to learn more, you can find all of my gardening articles on this page.
10) See Baby Animals at a Local Farm
Spring is the season of new birth, and a really fun way to hygge in the spring is to take a day to go visit a local farm or living history museum and see all of the adorable baby animals this time of year. (For those who live in New England, Old Sturbridge Village has some very cute baby lambs, chicks, piglets, and calves in the spring!)
11) Buy (Or Make) Something in Spring Colors
After months of winter weather, the vibrant colors of new spring growth and flowers are so beautiful to see. One way to celebrate the springs season is to buy or make something in your favorite spring colors. Whether you prefer bright saturated hues or softer pastels, enjoying a splash of spring color can help you to thoroughly appreciate the spring season.
12) Create an Outdoor Reading Nook
Autumn and winter are the months we typically think of when we think of hygge and creating cozy places to curl up with a good book. For those of us who love reading, though, there's no reason why we can't make reading part of a spring hygge routine as well. Instead of reading by the fireplace with a cozy blanket, create a outdoor reading nook in a sunny spot near some flowers so you can enjoy the warm sunshine and floral aroma while you read.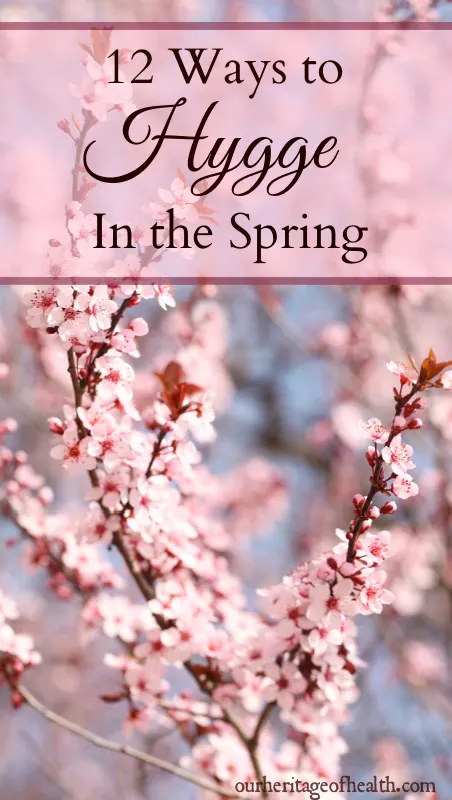 (We are a participant in the Amazon Services LLC Associates Program, an affiliate advertising program designed to provide a means for us to earn fees by linking to Amazon.com and affiliated sites.)
The information in this post is not to be taken as medical advice and is not intended to diagnose or treat any disease.