(Affiliate disclosure: I may receive a commission if you purchase something through links in this post. As an Amazon Associate I earn from qualifying puchases. See more details here:)
One of my favorite things about crockpot soups is how quick and easy they are to prepare. Once you've put all of the ingredients into the pot, you just have to let them simmer throughout the day while you go about the rest of your normal activities, and then when supper time comes you have a meal already warm and waiting for you. That's why this crockpot Italian beef and vegetable soup recipe is one of my go-to recipes for busy days because it's to quick and easy to prepare.
Depending on what ingredients you have on hand and how much time you want to spend, you can make this really, really quick and easy by using canned beans and bags of frozen veggies (which is what I do when I want something quick and during the seasons of the year when fresh veggies aren't as much in season.) If you are making this in the summer or early fall, though, and your garden is overflowing with fresh vegetables, then you could certainly chop up some fresh beans and peppers to substitute for the frozen ones in this recipe.
One note I will mention that's really important for this soup recipe is to make the pasta separately and then put it into the soup at the very end when you are just about to serve it. I made the mistake once of putting the pasta in with the rest of the ingredients and letting it cook all day long, and the pasta was horribly overcooked and it turned the whole soup into a gummy, gluey-textured mess. Needless to say I haven't made that mistake since then, and I now cook the pasta separately.
(And if you look closely at my photo of this soup you can see proof of the pasta being cooked separately because I photographed the soup before I added in the pasta. I had completely forgotten about it because I wanted to take a picture of the soup while there was still plenty of good daylight, and I hadn't cooked the pasta yet at that point. So you can just use your imagination to pretend that there is pasta in that bowl!)
Easy Crockpot Italian Beef and Vegetable Soup Recipe
Easy Crockpot Italian Beef and Vegetable Soup Recipe
This easy crockpot Italian beef and vegetable soup is a simple recipe to let simmer in the crockpot for busy days. The soup has beef, vegetables, beans, pasta, and herbs in a savory tomato broth.
Ingredients
1 1/2 lbs. ground beef
1 can crushed tomatoes (28 ounces)
1 cup garbanzo beans (one 15.5 ounce can)
1 cup cannellini beans (one 15.5 ounce can)
About 3 3/4 cups chopped peppers (or one 1 lb. bag of frozen peppers)
About 3 1/3 cups green beans (or one 1 lb. bag of frozen green beans)
1 tsp. black pepper
3 tsp. salt
1 tsp. garlic powder
2 tsp. Italian herb blend (I used a blend of oregano, marjoram, thyme, rosemary, savory, basil, and sage, but you can substitute whatever herbs you prefer and have available.)
About 6 cups of water
About 3 cups of dry pasta (I used cavetelli pasta, but any pasta will work.)
Instructions
Brown ground beef in a skillet over medium heat.
While beef is browning, put the beans, crushed tomatoes, and vegetables into the crockpot. (If you are using fresh vegetables you can chop them up at this point and add them.)
Add the salt, pepper, garlic powder, and spices.
Once the beef is browned, add it to the crockpot as well. Then add water and stir all ingredients well together.
Let simmer on high in the crockpot for several hours. (I usually just let mine go all day until it's time for supper.)
Before you are ready to eat, cook the pasta according to the instructions on the box. Once it is cooked, add the pasta to the soup, and enjoy!
Notes
As tempting as it might be to just throw the dry pasta into the soup with the rest of the ingredients, I really don't recommend it because when I tried doing that the soup had a very unpleasant gummy texture from the pasta overcooking. So now I always prepare the pasta separately from the rest of the ingredients.
Other Easy Soup Recipes to Try:
Farm Stand Bounty Chicken and Swiss Chard Soup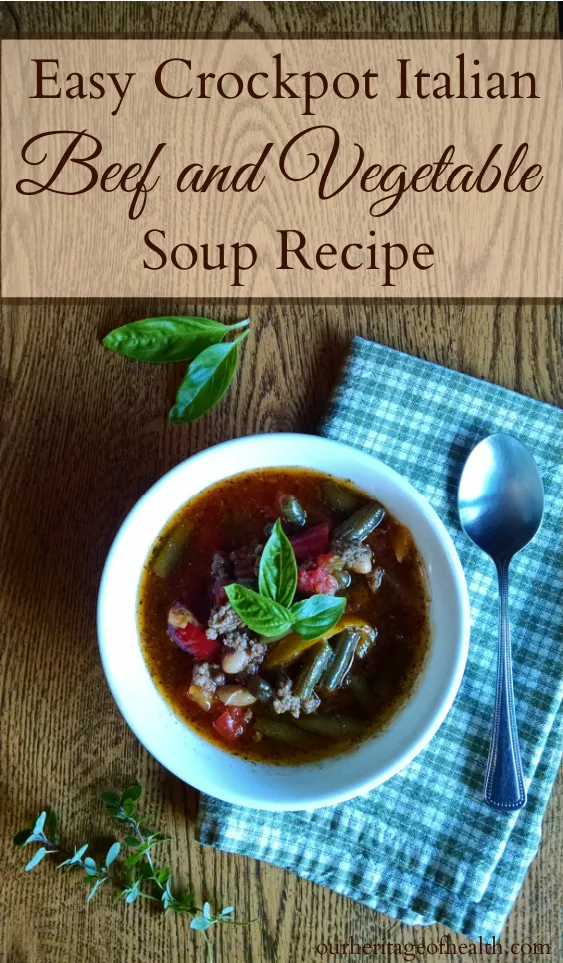 (We are a participant in the Amazon Services LLC Associates Program, an affiliate advertising program designed to provide a means for us to earn fees by linking to Amazon.com and affiliated sites.)
The information in this post is not to be taken as medical advice and is not intended to diagnose or treat any disease.