(Affiliate disclosure: I may receive a commission if you purchase something through links in this post. As an Amazon Associate I earn from qualifying puchases. See more details here:)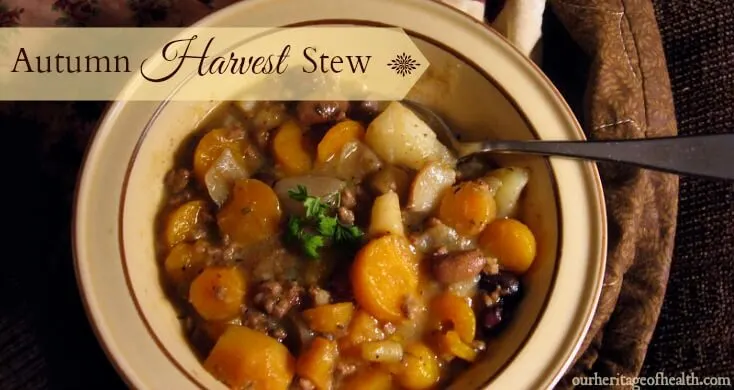 This autumn harvest stew recipe is the perfect way to use all of the root vegetables that you harvest from your garden (or from a local farmer's market) during the autumn season.
This hearty and warming stew is perfect for the chilly fall nights when the weather starts to turn colder and the days are getting shorter, especially if eaten while sitting by a fireplace wrapped up in a warm quilt with a good book to read!
It's also a very easily customizable recipe that's more like a general guideline that can be adapted depending on what kinds and how much produce you have available. That's one of the best things about making a soup or stew because, unlike recipes for baked goods that have to be measured exactly, you can just throw ingredients in the pot and know that it will turn out ok!
I used approximate amounts rather than exact amounts for this recipe because you can use whatever you have available and you can make a larger or smaller amount depending on how much stew you want. (And also because I'm really bad at remembering to keep track of how much I use of a particular ingredient, especially when it comes to seasonings. I let my taste buds tell me when the seasoning is right rather than my measuring spoons.)
I used some carrots and parsnips and dry beans harvested from my garden for this recipe along with some store bought vegetables, beef, and herbs and spices.
Autumn Harvest Stew Recipe
Ingredients:
(As with all recipes, organic vegetables and meat from humanely raised, pastured animals are the best choices, if possible.)
Grass-fed beef (about 2 pounds) (I used ground beef, but use whatever cut you prefer)
Carrots (about 6-7)
Parsnips (about 3-4)
Turnips (about 2-3)
Onions (about 2)
Potatoes (about 3)
Shelled dry beans (about 2 cups) or two cups of canned soup beans*
Garlic
Salt
Pepper
Parsley
Thyme
Rosemary
Enough beef or vegetable broth to cover all of the vegetables.
* I used heirloom Cherokee Trail of Tears and Scarlet Runner beans from my garden, but any shelled dry beans (like navy, cannellini, etc.) will work fine. I had already previously shelled my beans several weeks earlier and dried them, so I already had them on hand. Then, the night before I made the stew, I soaked them in water like I do when making traditional Boston baked beans. You could also use store bought dry beans or canned beans if you have those available and want to save time.
Directions
The night before you plan to make the soup, soak beans in water overnight. (You can omit this step if you are using canned beans.)
The next day, after the beans have soaked overnight, rinse them and add them to your slow cooker or soup pot.
Brown beef in a skillet with a little bit of butter until cooked.
Chop vegetables and add to a large soup pot or slow cooker.
Add seasonings, to taste. (I often add some seasonings at the beginning when I am putting all of the ingredients in the pot, and then at the end when it is nearly done, I taste to see if I need a bit more salt or pepper, etc.)
Let stew simmer, either in slow cooker on in a pot on the stove top, until the vegetables are tender.
Other Soup Recipes You Might Enjoy: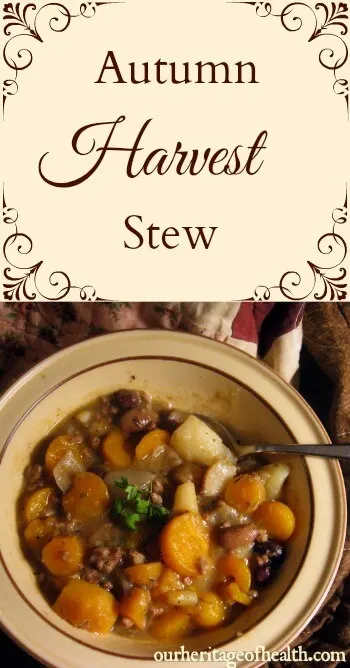 (We are a participant in the Amazon Services LLC Associates Program, an affiliate advertising program designed to provide a means for us to earn fees by linking to Amazon.com and affiliated sites.)
The information in this post is not to be taken as medical advice and is not intended to diagnose or treat any disease.