(Affiliate disclosure: I may receive a commission if you purchase something through links in this post. As an Amazon Associate I earn from qualifying puchases. See more details here:)
The variety of peas that I planted in the garden last year were short enough that they didn't need any support to grow. This year, though, I planted all heirloom vegetable seeds, and one of the varieties I planted was called a "Tall Telephone" pea, so I figured I'd better do something about supporting the plants once they started to grow. Rather than buying an expensive, fancy garden trellis, I decided to try to make my own DIY garden trellis, using twine and garden stakes.
I used just plain twine I found at a garden center, but you could also use rope or thick wire or string if you don't have twine. You can probably find stakes or landscaping pins at most garden centers or hardware stores or you can find them online.
I planted my peas near the frame of an old clothesline that's not being used anymore. It still has the hooks on the top where the ropes used to be tied, so it seemed like the perfect place to set up my homemade trellis system.
I waited to set up the trellis until after my pea seedlings had sprouted and I had thinned them out to their proper spacing so I would know exactly where to put each stake for the twine. One of the advantages of making your own trellis is that you can put it exactly where you want it and place each length of twine right next to your pea plants (or whatever other plants you want to support).
Simple Steps for a DIY Garden Trellis
Basically what I did was to simply put the stakes in the ground near the pea plants and then tie the twine between the stakes and the top of the clothesline. Because I planted quite a few pea plants, I put one stake between two plants rather putting one stake next to each individual plant.
My pea plants were close enough together that the runners were still able to reach and climb the twine, and spacing the stakes out that way allowed me not to have to use as many stakes.
I doubled up the twine just to make sure it would be strong enough and tied it between the stakes and the top of the clothesline, making it as taut as I could.
If you don't have something like an abandoned clothesline to tie the twine to, you could also do the same thing up against a fence. I think this kind of homemade trellis system would also work well for pole bean plants too. I'm going to give it a try when my bean seedlings get a little bit taller.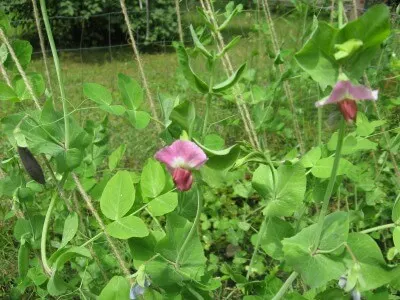 So far, my peas have been climbing up the twine trellis really well. Their little runners have been wrapping around the twine, and my pea plants are already much taller than they were last year at this time. Since I've taken these pictures, they've grown several more inches and are more than waist-high now. I'm excited to start harvesting some fresh Tall Telephone and Blue Podded peas soon!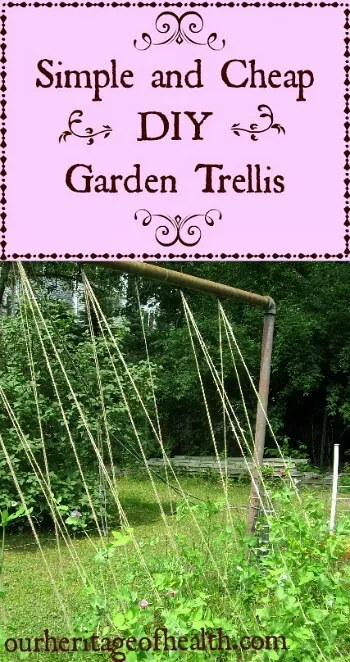 Other Gardening Ideas:
How to Build a Wall of Strawberries
How to Build a Lush, Vertical Living Wall Garden
Gardening for Beginners: Where to Grow
This post is linked to Make a Move Monday at Simply Made Home and Fight Back Friday at Food Renegade.
(We are a participant in the Amazon Services LLC Associates Program, an affiliate advertising program designed to provide a means for us to earn fees by linking to Amazon.com and affiliated sites.)
The information in this post is not to be taken as medical advice and is not intended to diagnose or treat any disease.