(Affiliate disclosure: I may receive a commission if you purchase something through links in this post. As an Amazon Associate I earn from qualifying puchases. See more details here:)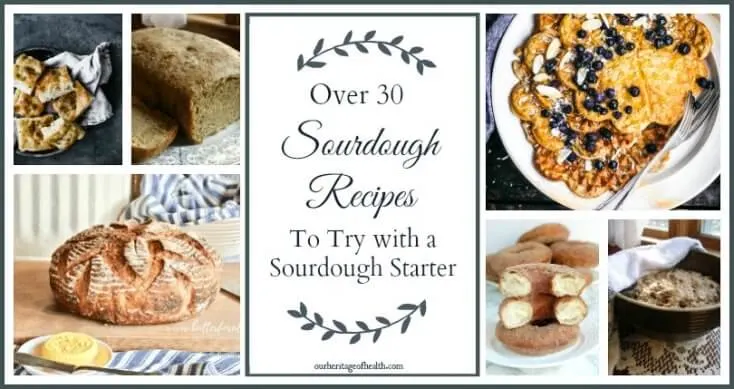 If you've ever made your own sourdough starter from wild yeast for making homemade sourdough bread you've probably found yourself wondering what else you can use it for besides just bread. And if you've been maintaining a sourdough starter for any length of time, then you know that it can multiply pretty quickly when you feed it and you can end up with a lot of extra. But rather than just throwing away the extra sourdough starter, it's nice to be able to use it to bake with, so I decided to gather up a big list of ideas for sourdough recipes to make with a sourdough starter.
These recipes all use homemade wild yeast for a sourdough flavor and for a rising agent. Some of the recipes use only sourdough yeast with no other types of yeast or rising agents like baking powder and soda and they are slowly fermented overnight. Some of the recipes use a mix of sourdough yeast and regular store bought yeast to give the sourdough flavor and to help give the dough a better rise. And a couple of the recipes use the sourdough starter mostly for the flavor and use primarily other rising agents. I've tried to indicate how the sourdough starter is used for each of the recipes listed below.
This list has a little bit of everything, including breakfast items like waffles and donuts, several different bread options, and other baked goods like rolls. There are also a couple of recipes for making different types of sourdough starters like rye and gluten free ones, too.
So if you're like me and you've ever found yourself wondering what to make with your homemade sourdough starter, here's a list of over 30 different recipes to make with your sourdough starter:
Over 30 Sourdough Recipes to Make with a Sourdough Starter
If you love sourdough baking, and you're looking for more recipes to try, here are some great ideas for recipes that you can make with a sourdough starter.
(We are a participant in the Amazon Services LLC Associates Program, an affiliate advertising program designed to provide a means for us to earn fees by linking to Amazon.com and affiliated sites.)
The information in this post is not to be taken as medical advice and is not intended to diagnose or treat any disease.