(Affiliate disclosure: I may receive a commission if you purchase something through links in this post. As an Amazon Associate I earn from qualifying puchases. See more details here:)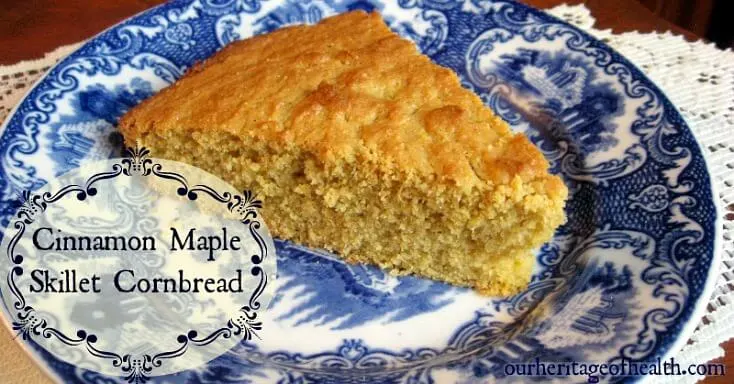 It doesn't get much more old-fashioned than skillet cornbread.
This bread is a blend of salty and sweet with a buttery texture and rich maple syrup and just a hint of spice from the cinnamon.
As much as I love using my homemade sourdough yeast to make bread, sometimes I forget to feed my starter, and sometimes I just don't want to wait for the dough to rise overnight so that I can have a slice of warm bread. This cornbread is my answer for those times when I'm forgetful or impatient (or both) because it only takes short amount of time from start to finish to make.
This recipe is my adaptation of a recipe called "Maple Corn Bread" that I found in a Bear Wallow Books recipe pamphlet called Old New England Recipes. I found the pamphlet several years ago in a gift shop, and over the years I've made a few changes to the original recipe to suite my taste. I also wanted to try adapting this recipe for baking in my cast iron skillet, because somehow cornbread just seems even more old-fashioned when it's baked in cast iron!
Since I'm not afraid to eat some refined flour now and again, I used some refined einkorn flour to make this bread . Other good options would be sprouted whole wheat flour or unbleached all-purpose flour. I'd also recommend getting organic, non-GMO cornmeal if possible, and, as usual, grass-fed butter and pastured eggs would be the best choice if you have them.
You can also find a variation on this recipe that's a bit more savory without the cinnamon and that is baked in a square glass pan instead of in a skillet here: Old-Fashioned Corn Bread Made with Maple Syrup.
Cinnamon Maple Skillet Cornbread Recipe
Ingredients:
Directions:
Preheat oven to 425 degrees.
In a large mixing bowl, combine dry ingredients, stirring to mix well. You especially want to make sure that you mix all of the baking soda into the flour well.
Add the maple syrup and the melted butter. I like to lightly mix these together just enough so that the hot melted butter doesn't start to cook the eggs when you add them but not so much that the batter gets overworked and tough.
Then crack the eggs into a separate bowl and beat them for a minute or two, and then fold them into the batter until everything is mixed well together..
Spoon the batter into an 8 or 10 inch cast iron skillet and bake at 425 degrees for 20 minutes until the top is golden brown and a toothpick comes out clean. (Using a 10 inch skillet will give you a bigger cornbread, but it will be shorter and flatter, while using an 8 inch skillet will give you a nice thicker cornbread if that's what you prefer. You might have to bake the cornbread a bit longer if you use an 8 inch skillet to make up for the extra thickness.
This cornbread is delicious as is, but it's even better served warm with some butter and a drizzle of maple syrup!
Other Cornbread Recipes To Try:
Simple Skillet Cornbread by 100 Days of Real Food
Sweet Cornbread – Dairy and Egg Free by It's a Love/Love Thing
Gluten Free Cornbread Recipes – Basic, Honey, and Southwestern by Real Food Whole Health
(We are a participant in the Amazon Services LLC Associates Program, an affiliate advertising program designed to provide a means for us to earn fees by linking to Amazon.com and affiliated sites.)
The information in this post is not to be taken as medical advice and is not intended to diagnose or treat any disease.