(Affiliate disclosure: I may receive a commission if you purchase something through links in this post. As an Amazon Associate I earn from qualifying puchases. See more details here:)
One of my favorite side dishes to give an old-fashioned flavor to a meal is corn bread. And this recipe for corn bread made with maple syrup is my favorite recipe that I've made over and over again for several years now.
This corn bread is a rich, buttery bread with just a hint of maple flavor for a bit of sweetness. The version of the recipe that I make is one that I adapted from a recipe that I originally found in a recipe pamphlet from Bear Wallow Books that I got at a gift shop. The recipe was called "Maple Corn Bread" and it was in a pamphlet called Old New England Recipes. Over time, as I've made this recipe, I've made some changes to the amounts of ingredients for the flour, cornmeal, salt, and eggs, and I've also started making it in a way that allows me to use one bowl for melting the butter and mixing up the batter to make one less dish to wash at the end.
This corn bread recipe tastes good when it is just at room temperature, but it tastes the best when it is served warm with butter, at least in my opinion. The way that I like to re-heat this corn bread for leftovers is to spread some butter on a piece and then put it in the oven with the broiler setting on low to just toast the top a bit and melt the butter. This gives is a crispy, buttery flavor that I think tastes absolutely delicious!
And even though there is salt in the cornbread already, I tend to like my corn bread a bit salty, so I usually sprinkle a bit or salt (or fleur de sel if I have it) on top. (If you're using salted butter, though, then you might want to skip the extra salt on top.) And I haven't tried it this way yet, but I think this would probably be delicious with herbed butter spread on top, too, for a more savory flavor. Or you could take this in a sweeter direction and drizzle a bit of maple syrup on top or spread on some jam or jelly. I tend to stick to just butter and salt for my corn bread, but the possibilities are endless if you want to try something different!
Old-Fashioned Corn Bread Made with Maple Syrup
Yield:
About 9-10 servings
This old-fashioned style corn bread has a rich, buttery flavor with just a hint of sweetness from the maple syrup. This recipe is one that I adapted from a recipe for "Maple Corn Bread" that I found in a recipe pamphlet from Bear Wallow Books called Old New England Recipes.
Ingredients
1 cup flour (I usually use either unbleached, all-purpose flour or einkorn flour.)
1 cup cornmeal
1 stick (8 Tbs.) unsalted butter, melted
1/3 cup pure maple syrup (I like the Grade A Dark Amber for stronger maple flavor.)
1 rounded tsp. salt
3 tsp. baking powder
3 eggs
Instructions
Preheat the oven to 425 degrees. Then melt the butter in a heat-safe bowl. I usually do this in the microwave for convenience and time's sake when I'm in a hurry, but you could also use a double-boiler technique on the stove if you prefer.
Add the cornmeal, salt, and maple syrup to the melted butter and stir well to combine.
Then crack the eggs into a small separate bowl and beat them together for a minute or two. (You could skip using a separate bowl if you want one less dish to wash, but I like to do this just in case I have a bad egg because then the rest of the batter wouldn't be spoiled by a bad egg.)
Fold the eggs in gently with the rest of the batter until just combined.
Measure out the one cup of flour and add half of it to the batter. Then, to the remaining flour still in the measuring cup, add the 3 tsp. of baking powder and use the measuring spoon to mix the baking powder and flour together so there aren't any lumps of baking powder.
Then add the flour and baking powder mixture to the batter and stir until all ingredients are combined.
Pour the batter into a greased 8x8 inch baking pan and bake the corn bread at 425 degrees for about 18-20 minutes or until the top is golden-brown and a toothpick comes out clean. (I usually check mine around 18 minutes because sometimes it is done a bit earlier than 20 minutes.)
Notes
This corn bread is the best when it is served warm with plenty of butter (or with another topping of your choice such as maple syrup or jam for a sweet flavor.) For re-heating this bread, I like to spread some butter on the corn bread and then use the broiler setting on the stove to just lightly toast the bread. This gives it a buttery, crispy top that is delicious!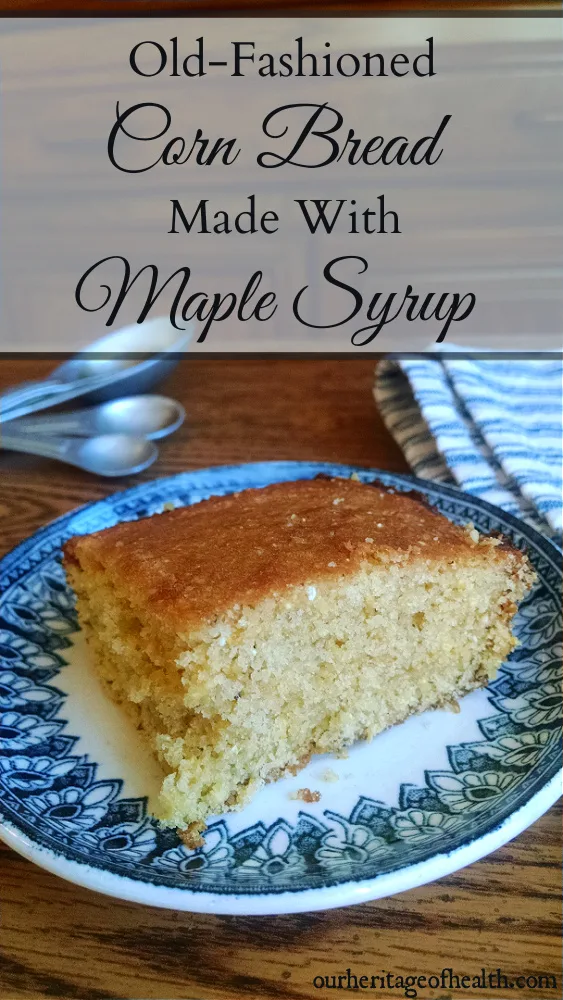 (We are a participant in the Amazon Services LLC Associates Program, an affiliate advertising program designed to provide a means for us to earn fees by linking to Amazon.com and affiliated sites.)
The information in this post is not to be taken as medical advice and is not intended to diagnose or treat any disease.