(Affiliate disclosure: I may receive a commission if you purchase something through links in this post. As an Amazon Associate I earn from qualifying puchases. See more details here:)
The changing season between late summer and early fall always gets me in the mood for more fall-ish flavors and for the old-fashioned tradition of putting up the harvest by making preserves. And this cinnamon maple peach jam recipe is one that I think fits perfectly into the change of seasons because of the fresh summer peach flavor and the hint of warm cinnamon spice and maple syrup that feel more like fall.
This recipe would be delicious spread over warm, freshly-baked bread or rolls, but it's also great to eat straight from the jar by the spoonful too. And it's a pretty adaptable recipe, too, because you can double or triple the recipe if you have more peaches, and you can adjust the amounts of maple syrup and sugar, too, if you want it to be more or less sweet or to have more or less maple flavor.
This recipe is an old-fashioned style, slow-cooked jam rather than one that uses pectin to thicken it. So it does take a bit more time for it to simmer down and thicken up, but other than stirring it occasionally, you can let it simmer on it's own while you get other stuff done around the house and just check on it once and awhile.
This is also a recipe that I would recommend storing in freezer-safe mason jars if you want to store it long-term, because I haven't tested the recipe for canning, and I don't know how the maple syrup might affect the shelf life of the jam if it was canned. But in the freezer it will keep for several months (and the last time I made a batch of this jam it didn't even need to last for several months because it had all been eaten well before that time . . .)
So, without further ado, here is my favorite recipe for a late summer, early fall cinnamon maple peach jam. I hope you enjoy!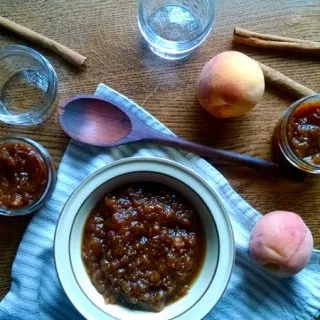 Cinnamon Maple Peach Jam
Yield: 3 half pint Mason jars or 6 4 oz jelly jars

Prep Time: 25 minutes

Cook Time: 2 hours

Total Time: 2 hours 25 minutes

This cinnamon maple peach jam tastes like the perfect blend of late summer and early autumn with the bright peach flavor and the hints of spice and maple. This jam is an old-fashioned style, slow-cooked recipe that doesn't use any pectin for thickening.
Ingredients
8-9 medium to large peaches
3/4 tsp cinnamon
1/4 tsp salt
1/4 cup sugar
Instructions
Fill a large saucepan with hot water and bring it to a boil.
Using a slotted spoon, drop the peaches into the boiling water and leave them for about 1 minute. Then remove them and set them aside to cool for a few minutes. (Or, you can also put them in a bowl full of ice water to cool them faster.)
Once the peaches have cooled enough to touch, use your fingers to rub the skin off. (The skin should peel away easily.)
Chop the peaches and put them in a medium saucepan over medium heat.
Add the maple syrup, sugar, salt, and cinnamon, and stir well.
Let the peaches simmer, stirring occasionally to keep them from sticking, until they have softened and thickened to reach a jam-like consistency. This took me just a little under 2 hours to reach the right consistency.
Once the jam has thickened enough, spoon it into Mason jars. (Make sure to use the freezer-safe ones if you're planning to store this in the freezer.)
Notes
If you don't have enough maple syrup or want to use less of it you can use 1/2 cup of syrup and 1/2 cup of sugar instead. The jam will just have a bit less maple flavor (but it will still taste delicious!)

This recipe hasn't been tested for canning, so for long-term storage I recommend keeping this in the freezer. (Although from personal experience I can tell you that it disappears pretty quickly, so long-term storage might not even be necessary...)
Recommended Products
As an Amazon Associate and member of other affiliate programs, I earn from qualifying purchases.
(We are a participant in the Amazon Services LLC Associates Program, an affiliate advertising program designed to provide a means for us to earn fees by linking to Amazon.com and affiliated sites.)
The information in this post is not to be taken as medical advice and is not intended to diagnose or treat any disease.