(Affiliate disclosure: I may receive a commission if you purchase something through links in this post. As an Amazon Associate I earn from qualifying puchases. See more details here:)
On busy nights when I don't have a lot of time to cook but I still want a homemade meal, this quick and easy ground beef stir-fry recipe is one of my go-to meals because it's very simple to make and it's very customizable based on whatever ingredients you like and have on hand.
The ground beef in the recipe cooks pretty quickly, and using shredded carrots rather than bigger pieces of chopped carrots cuts down on the cooking time quite a bit. And since the rice can cook in a separate pan at the same time that the other ingredients are cooking, you can multitask to prepare everything all at one time.
I kept this basic recipe very simple with just ground beef, rice, carrots, Swiss chard, and herbs and spices, but you could add in whatever ingredients are your favorites or use different vegetables at different times of the year based on what's in season where you live.
The types and amounts of herbs are very customizable, too. I gave a rough estimate of amounts for this recipe, but in reality, I almost never measure herbs when I'm cooking. So feel free to use more or less of any of the herbs listed in the recipe or to switch out herbs for some of your favorites.
And this recipe is also one that has a couple of options to make even faster if you have less time and want to speed things up a bit. For the carrots, for example, if you have plenty of time and want to use fresh garden-grown carrots, you could use a grater to make your own shredded carrots. Or if you're running short on time, you could simply open a bag of store bought shredded carrots and dump them in the pan.
You can also cut down on even more time (if you don't mind washing an extra pan) by cooking the meat in one pan and the vegetables in another pan at the same time. (The only thing I wouldn't recommend is cooking all of the ingredients together in one pan because the carrots sometimes take longer to cook than the beef does, and the beef could end up being overcooked and dry, so it's best to just cook them separately.)
If you decide to use two separate pans to cook the beef and the vegetables at the same time, you can reduce the cooking time down to just 20-25 minutes, making this a very quick meal for a busy night.
Quick and Easy Ground Beef Stir-Fry Recipe
Yield: About 4 servings

Cook Time: 40 minutes

Total Time: 40 minutes

This quick and easy ground beef stir-fry recipe is very simple to make so it's perfect for a busy night, and you can easily swap out ingredients for whatever you like and have available.
Ingredients
1 lb ground beef
1 cup water (for the rice)
About 2 cups shredded carrots (you can either buy shredded carrots or make your own by grating whole carrots.)
1 bunch Swiss chard (or your favorite leafy green.)
1 tsp salt
Dash of pepper
1/2 tsp ground sage
1/2 tsp thyme
1/2 tsp marjoam
1/2 tsp parsley
Sprinkle of allspice
Butter for cooking with (or your favorite fat to use.)
A few fresh chives (optional)
Instructions
In a medium saucepan, combine the 1/2 cup dry rice, 1 cup of water, about 1/2 Tbs. of butter and 1/2 tsp of the salt. Put the rice on the stove on medium heat until it reaches a boil, then stir the rice and reduce the heat to low and let the rice simmer, covered for about 20-25 minutes.
While the rice is cooking, put the shredded or grated carrots in a frying pan with some butter and saute them on medium heat until they start to soften.
Once the carrots have cooked for about 10 minutes, add the Swiss chard and cook for about another 5 minutes.
Take the cooked carrots and Swiss chard out of the pan and set them aside in a small bowl. Then put the ground beef in the pan and cook over medium heat, stirring often.
Add the remaining 1/2 tsp salt along with the pepper, herbs, and sprinkle of allspice, and continue stirring until the meat is cooked through.
Once the ground beef is cooked, add the cooked carrots and Swiss chard back into the pan and stir them together with the beef to combine.
Either serve the stir-fry over the rice, or add the pot of rice to the pan and stir together to combine.
(Optional) chop up a few chives and sprinkle over the top when serving.
Notes
I used dried herbs for this recipe, but you could also use fresh herbs and increase the amounts accordingly since dried herbs are more concentrated.
If you don't mind washing a second pan, you can speed up the process even more by cooking the ground beef and the vegetables in two separate pans at the same time.
Recommended Products
As an Amazon Associate and member of other affiliate programs, I earn from qualifying purchases.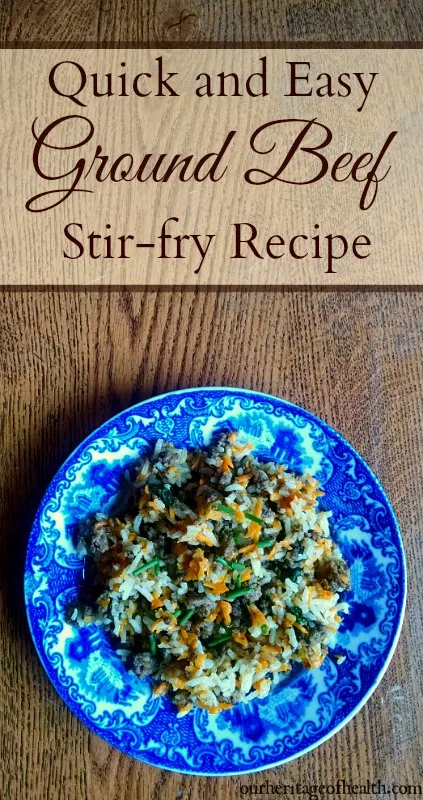 (We are a participant in the Amazon Services LLC Associates Program, an affiliate advertising program designed to provide a means for us to earn fees by linking to Amazon.com and affiliated sites.)
The information in this post is not to be taken as medical advice and is not intended to diagnose or treat any disease.