(Affiliate disclosure: I may receive a commission if you purchase something through links in this post. As an Amazon Associate I earn from qualifying puchases. See more details here:)
I'm trying something new with my garden this year. I'm going to schedule the timing of my planting by the moon phases.
At first, I thought that maybe the idea of planting by the moon phases was just folklore or even superstition, but the more I thought about it, the more it seemed to make sense that the moon's phases might actually have some effect on the growth of the plants in my garden. If the moon's gravitational pull can affect the tides of the ocean, then why couldn't it have an effect on the soil and the plants too?
Planting by the moon phases isn't exactly something that I've done copious amounts of research about, but I don't feel like I really need to see any sort of scientific evidence or proof either to believe that it could help my plants to grow better. I think it's one of those instances where we can learn a lot by looking back at history and the traditions of those who lived before us.
Traditional Planting Methods
Over the past few years, I've collected several 19th century almanacs printed between the years of 1824 to 1866. One thing that all of these almanacs have in common is a monthly calendar highlighting the moon phases for each day of the month. In fact, the moon received just as much emphasis in these old almanacs as the other predictions of the weather did.
These almanacs were printed back in a time when people really depended on the success of their crops for survival. Nowadays, many of us grow gardens mainly as a hobby. If our beans and tomatoes don't do well, we can just go to the grocery store and buy some more.
Since most of us don't rely on our gardens for our main source of income and food, we tend to have a bit more of a casual attitude about them, but in past centuries, farmers and homesteaders put a lot of thought and planning into their planting and harvesting, using the moon phases as a way to try to improve their chances of having a successful crop.
How to Plant By the Moon Phases
I first read about planting by the moon signs in the book:
Old-Time Country Wisdom & Lore: 1000s of Traditional Skills for Simple Living.
For anyone interested in history, homesteading, and simple living, this book is a fascinating compilation of just about every type of old-fashioned folklore you can think of.
Basically, each phase of the moon is either an "increasing" or "waxing" phase or a "decreasing" or "waning" phase.
The first and second quarter moons, or the phases between the new moon and the full moon, are increasing phases. The best vegetables to plant during these phases are those that grow above the ground.
Good vegetables to plant in these phases include: beans, broccoli, corn, cucumbers, lettuce, peas, pumpkins, squash, tomatoes, etc. (This would be a very long list if it included everything, but basically the plants that grow their fruit above the ground are best planted during these moon phases.)
The third and fourth quarter moons, or the phases between the full moon and another new moon are the decreasing phases. During these phases, it's best to plant vegetables that grow beneath the ground.
Good vegetables to plant in these phases include: carrots, onions, parsnips, potatoes, beets, turnips, rutabaga, etc. (Basically any root crop that grows below the ground.)
What If the Weather Doesn't Cooperate?
While I'm going to try to follow the moon phases when planting my garden, I'm going to put the priority on planting during the proper weather. If there's a chance of frost, I'm not going to plant my tomatoes just because it's the last day before the moon phase changes.
And if it's cold and rainy or if it simply isn't a convenient time for me to be planting, I'm not going to worry about following the moon phases exactly. After all, I've been able to grow vegetables for the past few years without paying the least bit of attention to the moon. Timing my planting by the moon phases is something that I hope will just give my garden that extra little boost to be as fruitful as possible but it's not something that I'm going to stress about if other factors make it better for me to plant on a certain day.
What's your opinion on planting by the moon phases? Superstitious quackery or credible tradition?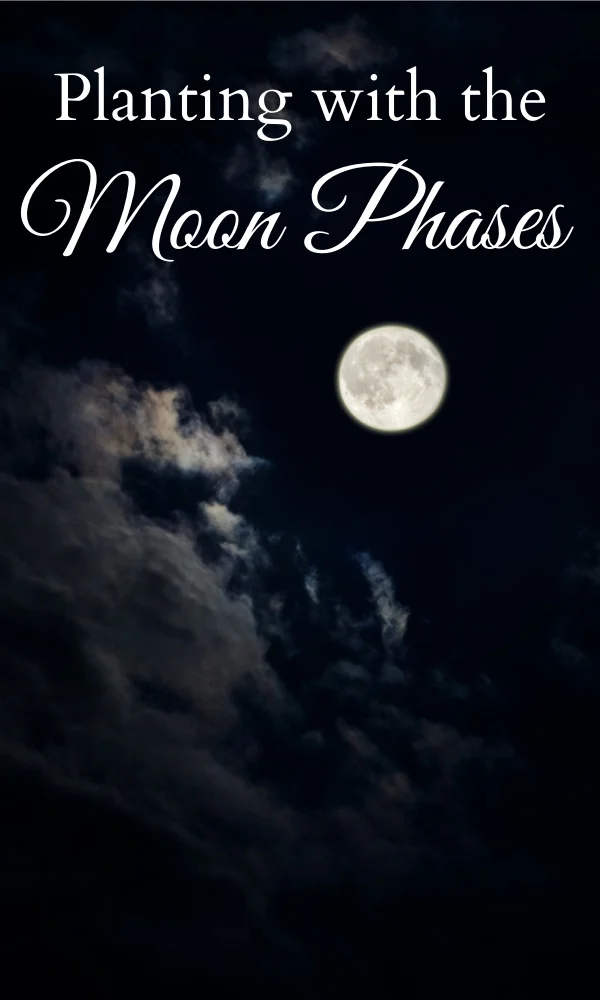 Source:
Old-Time Country Wisdom & Lore: 1000s of Traditional Skills for Simple Living
This post is shared with: Sunday School at Butter Believer, Clever Chicks Blog Hop at The Chicken Chick, Family Table Tuesday at The Polivka Family, Scratch Cookin' Tuesday at Granny's Vital Vittles, Party Wave Wednesday at Holistic Squid, Natural Living Link-Up at Jill's Home Remedies, Frugal Days Sustainable Ways at Frugally Sustainable, Small Footprint Friday at Small Footprint Family.
(We are a participant in the Amazon Services LLC Associates Program, an affiliate advertising program designed to provide a means for us to earn fees by linking to Amazon.com and affiliated sites.)
The information in this post is not to be taken as medical advice and is not intended to diagnose or treat any disease.