(Affiliate disclosure: I may receive a commission if you purchase something through links in this post. As an Amazon Associate I earn from qualifying puchases. See more details here:)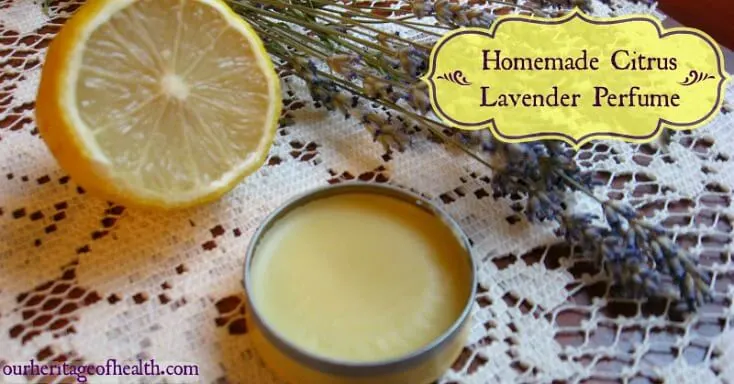 I had just about given up on perfumes once I learned about all of the questionable ingredients in the perfumes and body sprays I had been buying. Things like propylene glycol, synthetic chemical fragrance blends, and a whole bunch of other unpronounceable ingredients that would make my spell-checker go crazy if I tried to type them out.
Just look up the name of your favorite perfume into the Environmental Working Group's Skin Deep Cosmetics Database and see how toxic it really is! I was pretty shocked when I realized that my "refreshing" perfumes and body sprays with their "natural and botanical extracts" were actually full of carcinogens and other toxic chemicals!
After going through all of the personal care products in my bathroom to get rid of ones with questionable ingredients and trying to freshen and purify the air indoors, I didn't want to be putting those chemicals on my body, breathing them in, or filling the air inside the house with them. So, I did without the perfume for awhile, but I missed being able to put on something nice-smelling every morning.
The Non-Toxic Version of Perfume
The solution for me was to try making my own homemade perfume. The idea of making my own perfume seemed kind of complicated at first, but once I actually tried it, I realized that it's actually pretty simple. And it only took me about twenty minutes from start to finish. Not bad at all considering that it would have taken longer than that to go out to a store and buy some. And making your own perfume is much, much cheaper too since you only use a few teaspoons of beeswax and carrier oil and a few drops of essential oils.
When I was paging through my copy of The American Frugal Housewife
written by Lydia Marie Child in 1833, I found a recipe for a homemade citrus lavender perfume and decided to try making my own. After finding this post at Crunchy Betty, I was inspired to try making a solid perfume rather than a liquid one. I love how convenient and portable it is – so much easier for traveling than a liquid perfume would be. Just stick the container in your purse and you're good to go! I used the information about the ratios for creating the solid perfume from the Crunchy Betty website and combined that with the blend of essential oils mentioned in Mrs. Child's book from 1833.
Here is the list of ingredients I used and the steps I followed to make my perfume:
Ingredients and Equipment:
2 tsp

beeswax

2 tsp carrier oil –

sweet almond oil

or

jojoba oil

48 drops essential oils (I chose this number because I was using 4 different oils and this would allow me to have equal amounts of each.)

Small metal tin (the size I used was 1/2 ounce)
Note: If you have a 1 ounce tin you can double this recipe to fill the tin.
Step 1: Blend the Essential Oils
It's definitely a good idea to blend the essential oils first before you start working with the beeswax because it hardens really, really fast. I put all of my essential oils into one cup so that I could just pour them into the beeswax mixture when the time came. The recipe from Mrs. Child's book calls for equal parts of each essential oil, so for this perfume I used:
12 drops lemon essential oil
12 drops orange essential oil
12 drops bergamot essential oil
12 drops lavender essential oil
You can also play around with the amounts of each oil or try substituting a different essential oil if you don't have the ones listed above.
Step 2: Measure out the Carrier Oil
I decided to use sweet almond oil for my carrier oil because I had some on hand and it seemed more authentic to the period of this recipe. I've seen several mentions of almond oil in 19th century books and magazines, but I've never seen a mention of oils jojoba oil. If you don't have almond oil available, though, jojoba oil would work just as well. Or olive oil is also a oil that was used in the 19th century if you want to be authentic to the original recipe.
In a separate cup from the essential oils, I measured out two teaspoons of almond oil. Measuring the oil out ahead of time saves you from rushing around once your beeswax is melted.
Step 3: Melt the Beeswax
If you have beeswax pellets, simple measure out 2 tsp and melt them in a small saucepan over medium-low heat.
If you have a solid block of beeswax, I've found that the best way to get the two teaspoons of beeswax was to grate off enough beeswax to have a firmly packed two teaspoons (just like the way you would pack brown sugar in a measuring cup.) If you find that you don't have quite two teaspoons, you can just shave off a bit more beeswax and add it to the pot. If you have more than two teaspoons, just save the extra for another project.
Step 4: Add the Carrier Oil and Essential Oils
Once you have two teaspoons of melted beeswax, add the two teaspoons of carrier oil to the pot and stir around a bit until they are combined. Then take the pot off the burner and quickly (quickly!) add in the essential oils. Stir for just a bit until combined.
Step 5: Pour into Container
As quickly as possible, pour the mixture into your container. Cover it, let it rest for about 10 minutes until it is set, and then enjoy!
Perfect Aromatherapy
The scent of this perfume is very balanced. The main note is definitely the citrus, but the lavender gives it a nice depth. It's slightly sweet, too, from the almond oil and beeswax. The citrus scents are energizing, but the lavender is relaxing, so they balance each other out quite nicely for the perfect blend of morning aromatherapy.
I'm so glad I decided to try making my own perfume. For a short amount of time and a small amount of money, I have my own unique perfume that is non-toxic and completely natural!
Here are some other great ways to use essential oils:
How to Make Your Own Natural Perfume in Two Easy Steps
21 Simple Gifts You Can Make with Essential Oils
This post is linked to Sunday School at Butter Believer, Scratch Cookin' Tuesday at Granny's Vital Vittles, Frugal Days, Sustainable Ways Wednesday at Frugally Sustainable, Wildcrafting Wednesday at Mind Body and Sole, Natural Living Link-Up at Jill's Home Remedies.
(We are a participant in the Amazon Services LLC Associates Program, an affiliate advertising program designed to provide a means for us to earn fees by linking to Amazon.com and affiliated sites.)
The information in this post is not to be taken as medical advice and is not intended to diagnose or treat any disease.