(Affiliate disclosure: I may receive a commission if you purchase something through links in this post. As an Amazon Associate I earn from qualifying puchases. See more details here:)
Marlborough pudding is a bit of an unusual dessert by modern standards. While the word "pudding" may evoke thoughts of modern, creamy vanilla or chocolate pudding, the 19th century version of pudding was more of a custard or sometimes even a cake-like texture. So Marlborough pudding is actually an apple custard flavored with lemon and nutmeg and baked in a pie pastry.
Marlborough pudding was once a very popular dessert for special holidays, especially Thanksgiving, and it often would have been served alongside other traditional holiday pies like mincemeat pie. For some reason or other the dessert has lost its popularity over time, and it's not the staple of the holiday table like it once used to be. Then again, pies in general aren't quite as common as they used to be during the 19th century when pie was often served as a regular part of the everyday dinner table and not saved just for holidays or special occasions. (Having pie that often is one part of 19th century living that I don't think I would have minded at all!)
The texture of Marlborough pie is a bit similar to pumpkin pie, although the addition of the pureed apples makes it a bit less smooth than pumpkin pie typically is. The flavor is a wonderful combination of apple and the bright tang of lemon with a hint of nutmeg. For the best flavor, you can make this pie with homemade applesauce made from a combination of sweet and tart apples. Or, if you're short on time, you can use store bought plain, unsweetened applesauce and maybe add a bit of extra lemon juice to brighten up the flavor of the blander store bought apples.
I based my adaptation of this recipe on one I found from Miss Beecher's Domestic Receipt Book from 1858. This version of Marlborough pudding is a bit different from some other versions because it omits the sherry that was common in many earlier versions of this recipe. I'm assuming that this may be because Miss Beecher's recipe dates from a time after the temperance movement had started unlike some earlier recipes that pre-date the temperance movement.
I also learned some more about the history and some tips for how to bake old-fashioned Marlborough pies from this article about Rediscovering Old-Fashioned Marlborough Pudding.
This is the original version of the recipe from Miss Beecher's Domestic Receipt Book that I used:
"Six tart apples. Six ounces of sifted sugar. Six ounces of butter, or a pint of thick cream. Six eggs. The grated peel of one lemon, and half the juice.

Grate the apples after paring and coring them. Stir together the butter and the sugar as for cake. Then add the other ingredients, and bake in a rich paste. Some persons grate in crackers, and add rose water and nutmeg. It is much better to grate than to stew the apples, for this and all pies." (Miss Beecher's Domestic Receipt Book for 1858 – pg. 126)
Even though Miss Beecher recommended grating the apples rather than stewing them, I found it to be easier to chop up the apples and stew them in a saucepan to make applesauce rather than grating each apple. I also decided to use the juice of a whole lemon rather than half of a lemon since I like the lemon flavor and didn't want to waste the other half of the lemon. If you want more a stronger apple flavor and a more subtle lemon flavor, though, you can use less lemon juice.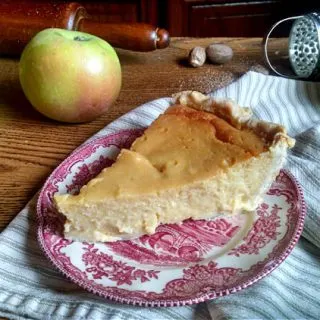 Apple and Lemon Marlborough Pudding Recipe from 1858
This Marlborough pudding recipe is an old-fashioned custard pie made with apples and flavored with lemon and nutmeg. This recipe is adapted from one from Miss Beecher's Domestic Receipt Book from 1858.
Ingredients
2 1/2 cups of stewed apples (about 6 tart medium to large-sized apples or you can use 2 1/2 cups of store bought unsweetened applesauce)
3/4 cup sugar
12 Tbs. softened butter (1 1/2 sticks)
6 eggs, lightly beaten
The grated peel of one lemon (about 1 tsp.)
The juice of one lemon
1/2 tsp salt
Pie pastry for one bottom crust for a 9 inch pie plate (see notes below)
Instructions
If you are using fresh apples rather than applesauce, prepare the apples by peeling, slicing, and chopping the apples. Then, stew them in a sauce pan on medium heat until they are the consistency of applesauce (about 20-30 minutes or so depending on the type of apple you use and how hard or soft the apples are.) If you want a smoother texture to your finished applesauce, you can strain the mixture through a sieve or use an immersion blender to make a smoother sauce. I chose not to do this, though, and the texture of my pie still turned out fine.
While the apples are cooking down into applesauce, prepare the pie pastry, using your favorite recipe, and then let the pastry dough chill in the fridge while you mix up the rest of the ingredients for the filling.
In a large mixing bowl, prepare the rest of the pie filling by creaming together the butter and the sugar. Then add in the applesauce and stir to combine.
Add in the lightly beaten eggs, the nutmeg and the salt. Then add in the lemon peel and juice and stir well to combine.
Set the filling mixture aside and roll out your pie pastry to fit your pie plate, trimming off the edges and crimping them if you would like to made the pie more decorative. Then pour the mixture into the pie pastry and bake at 400 degrees for about 15 minutes.
Once your pie has baked for 15 minutes at 400 degrees, turn the oven down to 350 and let the pie continue to bake for another 45-50 minutes or until a knife inserted in the center comes out clean.
Notes
1. If you have a favorite pie pastry recipe you like to use, you can use that, or you can try this recipe that I recommend. For a more authentic 19th century pie, you can use lard if you have access to it or butter or a mix of the two. Or you can also use coconut oil as a more modern substitute for shortening.
2. Since this was typically a holiday pie, 19th century bakers would have most likely used fancier white sugar. If you prefer the taste of brown sugar, though, you can also use that.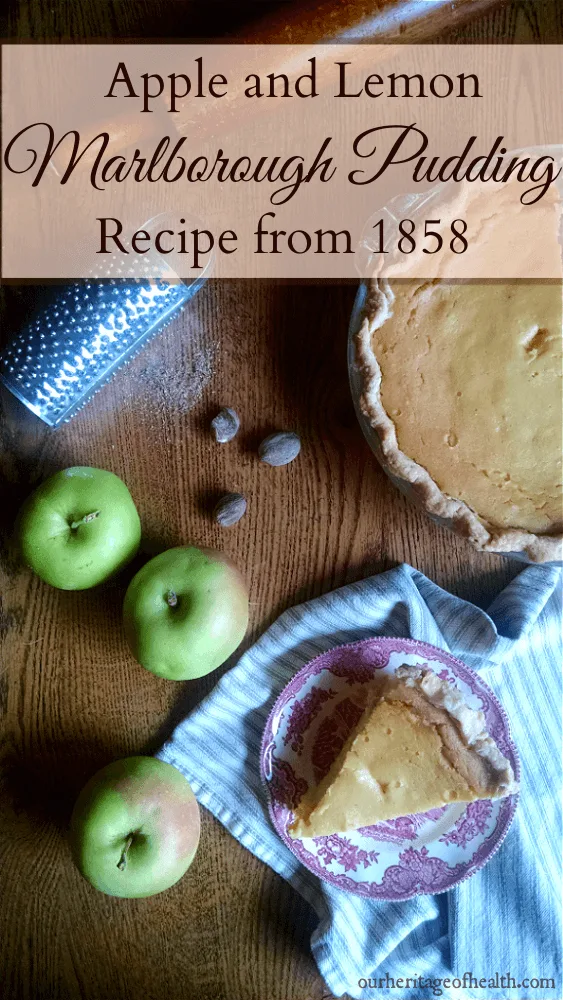 (We are a participant in the Amazon Services LLC Associates Program, an affiliate advertising program designed to provide a means for us to earn fees by linking to Amazon.com and affiliated sites.)
The information in this post is not to be taken as medical advice and is not intended to diagnose or treat any disease.