(Affiliate disclosure: I may receive a commission if you purchase something through links in this post. As an Amazon Associate I earn from qualifying puchases. See more details here:)

These maple-glazed, overwintered parsnips are so sweet that they actually seem more like eating a dessert than like eating a vegetable. And, believe me, I love dessert and I've always had a serious sweet tooth, so that's not something I say lightly!
I know, it sounds pretty crazy to say that you can make a buttery, caramelized, dessert-like side dish out of a vegetable that you usually find in savory dishes, but there are two main keys to creating a flavor that's sweet rather than parsnip-y. (That's a word, right?)
How to Get Sweet Parsnips
The first key is to use overwintered parsnips. Overwintered parsnips are ones that have been dug up in the spring after being left in the ground for the winter time. The cold temperatures help to increase the natural sugars in the parsnips, making them sweeter the longer they stay in the ground. You can try this recipe with fall parsnips if you want, but your best bet for sweet parsnips would be ones that weren't harvested until after the first frost, and for the sweetest flavor, it's best to wait for the spring.
You aren't as likely to find overwintered parsnips in a regular grocery store, but many local farms and farmer's markets have them out this time of year, and you might be able to find them at a specialty foods store. I found mine at Hutchin's Farm – an organic farm that I'd highly recommend to anyone within driving distance of Concord, MA.
The second key to sweet parsnips is to grate them so that they're shredded rather than chopping them like you would with carrots. I think this might actually be equally important to using overwintered parsnips because the smaller pieces of grated parsnips allow the maple flavor to fully soak into them, whereas if you were to use sliced parsnips then the maple flavor might only soak into the outer edges and the core of the slice would still be a stronger parsnip flavor. That and sliced parsnips take much longer to cook, too.
Maple-Glazed Overwintered Parsnips Recipe
This recipe is really easy and fast to make and it uses only four simple ingredients (unless you want to have fun customizing the flavors with other ingredients like herbs or spices. I think cinnamon would probably taste really good with these!) I made these parsnips this afternoon and it only took me about 20 minutes total to go from fresh-from-the-farm parsnips to a sweet side dish/dessert.
Ingredients:
4 parsnips (mine were medium sized)
Grass-fed butter (I didn't measure exactly, but I used about 2 1/2 Tbs.)
Dash of salt (I didn't measure exactly, but it was somewhere around 1/4 tsp. If you use salted butter, you might not need quite as much.)
About 1 Tbs pure maple syrup *
*For the strongest maple flavor, I like to use Grade A Dark Color & Robust Flavor (what used to be called Grade B.) Using a lighter Grade A syrup will give you a more subtle maple flavor.
Directions:
Peel parsnips and grate them until they are shredded.
Saute grated parsnips in a skillet with butter on medium heat, stirring regularly, until they are golden brown and cooked through. About 10-15 minutes.
Add salt and maple syrup, stirring well, and saute until caramelized. About another 2-3 minutes.
Recipes makes about 3/4 cup (depending on the size of your parsnips. Mine were on the smaller side, so if you have larger parsnips you might end up with closer to a cup.)
Recipe Notes:
The grated parsnips burn quickly if they are not stirred often enough. You don't need to stand by the pan and stir continuously the entire time they're cooking, but you want to make sure to check back often and give it a quick stir if you're multitasking, especially once you've added the maple syrup. Leaving the pan alone for more than a couple of minutes could leave you with burnt parsnips.
These parsnips are delicious as is, but if you wanted to make them even closer to a dessert, you could try adding some cinnamon or nutmeg, (or both), or some toasted pecans. Or, if you wanted to make them a little bit more savory, you could try adding some sage and thyme to balance the sweetness. These maple-glazed parsnips are a perfect base for whatever flavors you prefer.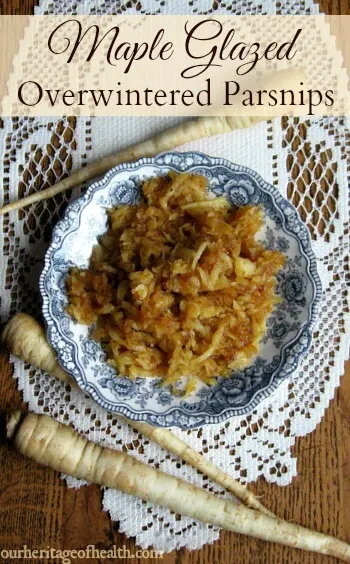 (We are a participant in the Amazon Services LLC Associates Program, an affiliate advertising program designed to provide a means for us to earn fees by linking to Amazon.com and affiliated sites.)
The information in this post is not to be taken as medical advice and is not intended to diagnose or treat any disease.