(Affiliate disclosure: I may receive a commission if you purchase something through links in this post. As an Amazon Associate I earn from qualifying puchases. See more details here:)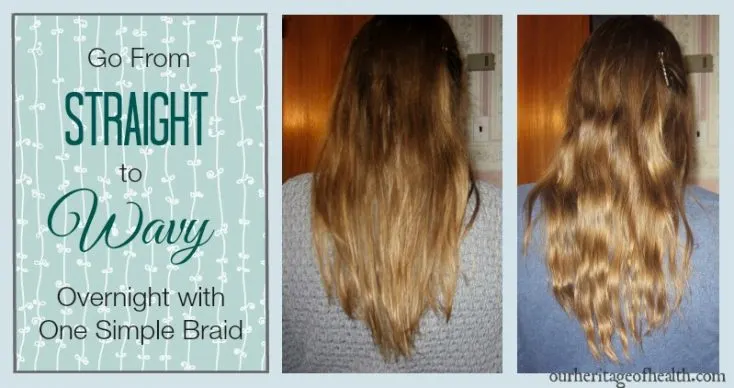 I'm one of those people with straight hair that can't get curls or even waves by using a curling iron. It just doesn't work. And even if it does make my hair slightly wavier (requiring massive amounts of hairspray), it doesn't last for more than a couple hours before the waves go flat and straight again.
For years, the only way my hair could get any kind of lasting waviness was if I went to bed with my hair wet in actual curlers, but who wants to wear curlers to bed all the time? Definitely not me.
Braids Are an Easy Way to Get Wavier Hair
I started braiding my hair at first because I was tired of always waking up with it tangled. One of the downsides of having long hair is the time it takes to brush it out all of the tangles. It was the worst in the winter months because my hair would seem to get even more tangled with the coarser fabric of all of the heavy sweaters I was wearing.
Since I was tired of the tangles, I decided to go the old-fashioned route and braid my hair before bed just like you read about in old books and see Ma Ingalls do on every episode of Little House on the Prairie.
Braiding my hair kept it tangle-free, and, as an added bonus, it made my hair wavy too!
How to Braid Your Hair for Waves Overnight
The first thing you want to do is to start with clean hair because washing your hair will undo all of the waviness from the braid. This method works great for me because I usually wash my hair in the evenings rather than trying to wake up extra early to do it in the morning. If you usually wash your hair in the morning, though, you might still be able to get a few waves if you braid your hair and leave the braid in while you finish getting ready, but it probably won't work quite as well as leaving the braid in overnight unless you have hair that picks up curls easily.
The next thing you want to do is to brush your hair. Brushing your hair is a good natural way to improve the health and appearance of your hair for one thing, but also, if you brush any tangles our of your hair the night before, all you have to do the next morning is to unbraid your hair and then style it however you want. And if you brush it before braiding, you don't have to worry about brushing any of the waviness out of your hair either.
Step number three is to make your braid nice and loose.
* The key to having subtle, more natural looking waves is to make sure the braid is loose, not tight.* If the braid is too tight, you'll end up with crimped hair rather than wavy hair. So, unless you want to look like one of those Crimp N' Curl Ponies from the 90's, loosen your braid!
After I've braided my hair, I just pull at the pieces with my fingers to make sure that they're nice and loose. You also want to try end the braid as close to the end of your hair as possible, otherwise you'll end up with wavy hair and then a few inches of straight hair at the bottom.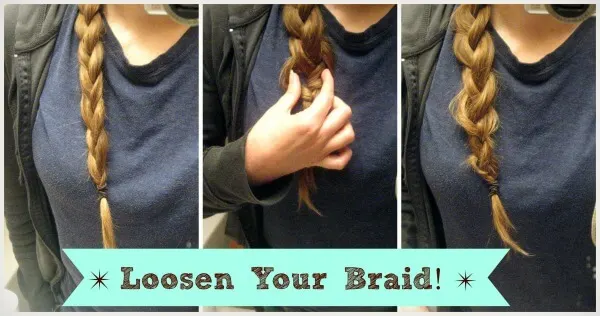 Depending on your hair type, you could also mist your hair with a spray bottle to make the waves more pronounced. I usually just braid my hair dry unless it's still a little bit damp after taking a shower, and it still works fine for me.
The other option is to mist your hair with a bit of natural hairspray to help it keep its hold better. You don't want to use too much or your hair will be stiff and crunchy in the morning, but a light mist will help the waves keep their shape. Since I don't want to breathe in all of the chemicals in regular hairspray, I switched to a more natural kind. You can find the hairspray I usually use here
.
In the morning, just unbraid your hair, run your fingers through it a bit, and you're good to go!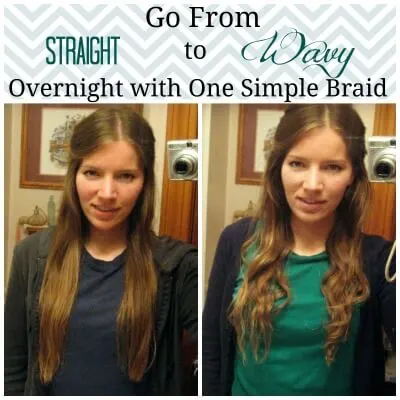 6 Reasons Why Braids Work Well for Creating Wavy Hair
1) They're Really Easy and Quick!
Unlike using a curling iron, putting your hair into a braid literally takes less than a minute. And the best part for me is that it's something I can do the night before rather than trying to rush around in the morning. I like my sleep, and I don't usually get up any earlier than I have to, so I love being able to just unbraid my hair, run my fingers through it quickly, and continue on with my morning rather than having to spend a lot of time with a curling iron trying to style my hair.
2) They're Comfortable to Sleep in
A braid is really comfortable to sleep in, unlike curlers or bobby pins. And, as we know, good quality sleep is really, really important for good health, so that's an added bonus!
3) They Still Look Normal
When your hair is in a simple braid, you can still look "normal" enough to go answer the door if somebody knocks rather than trying to hide because you don't want to be seen in curlers.
4) They Keep Your Hair Tangle-Free
Before I started braiding my hair, I would wake up every morning with a huge tangled knot that would take me forever to try to brush out the next morning. Braiding my hair saves me so much time and trouble every morning.
5) They Keep Your Hair Healthier
Since braids keep your hair from getting tangled, they also help to keep your hair healthier since you don't have to yank a brush through it all the time, potentially breaking strands, while you try to get rid of all the tangles.
6) The Waviness Lasts All Day
For those of us who can't seem to get wavy hair from heat methods, braids are the perfect solution because they really do last all day (or at least they do for my hair!)
I can't guarantee this method will work equally well for everyone since everyone's hair is unique, but it's such an easy thing to do that's it's certainly worth a try.
So, if you want easy, naturally wavy hair, tap into your inner 19th-century woman and start braiding your hair!
For more info about natural hair care, check out these posts:
Natural Homemade Products for Curly Hair
(We are a participant in the Amazon Services LLC Associates Program, an affiliate advertising program designed to provide a means for us to earn fees by linking to Amazon.com and affiliated sites.)
The information in this post is not to be taken as medical advice and is not intended to diagnose or treat any disease.