(Affiliate disclosure: I may receive a commission if you purchase something through links in this post. As an Amazon Associate I earn from qualifying puchases. See more details here:)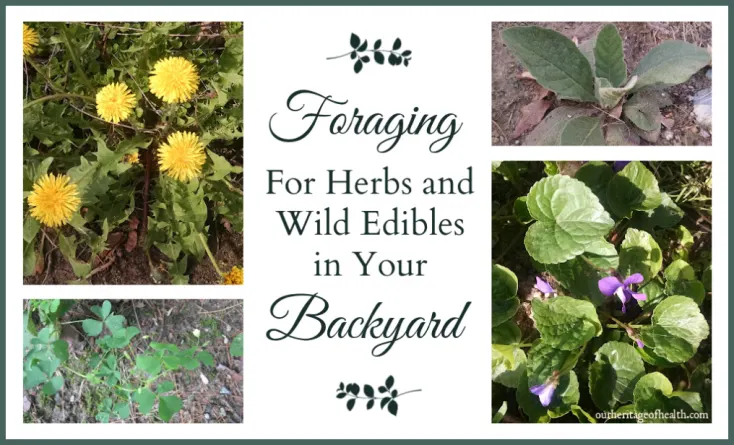 When we think about going foraging, we often picture going somewhere deep in the woods or in a field out in the countryside, but a place that's easy to overlook is your own backyard. While there are certainly many herbs and wild edibles that you can find in the woods or out in the country, there are also lots of edible plants and herbs that you can find growing right in your own backyard.
Even though you might not find quite as large of a variety of different useful plants in your yard as you might find by going someplace else to forage, there's nothing quite as convenient as being able to just step out in your backyard to gather some of your own herbs and edible plants for eating or for using in herbal remedies.
Benefits of Foraging In Your Backyard
One of the biggest benefits of foraging for herbs and wild edibles in your backyard is that you have control over what happens in your yard. If you go foraging someplace else, you might not really know for sure if there were any chemical pesticides or herbicides used in the area or sprays to kill mosquitos, etc. But if you are foraging in your own yard, you know if those plants have been exposed to any chemicals or not.
Another benefit of foraging in your own yard is being able to harvest free herbs and food without having to worry about getting permission to forage. You can't always just assume that a plant that is growing wild is free for the taking because it might be on property that someone else owns or growing in a place where harvesting plants isn't allowed. When you gather plants from your own property, though, you don't even have to worry about whether or not it's ok to harvest those plants.
And another big benefit of backyard foraging is convenience, of course. You don't have to travel anywhere to forage in your yard and you can find useful plants growing right outside your door in many cases.
Cautions About Foraging In Your Backyard
Of course, just like with any type of foraging, it's important to keep in mind some of the safety precautions for foraging. These are a few of the things to pay attention to whenever you are thinking of harvesting a wild plant from your yard or anywhere else. (And, of course, it's also important for me to mention that I'm not an expert about foraging by any means and it's important for your to do your own research and take any necessary precautions before consuming any plants in your yard.) These tips are ones that I've learned from some other foragers:
Make Sure You Are Confident In Your Identification
It's important to make sure you have correctly identified a wild plant before using it, especially if you are planning on ingesting the plant. Pay attention to details such as the shape of the leaves and stem, the shape and colors of the flowers, the texture of the leaves, etc. Some plants have look-a-likes that are very similar, so it's very important to make sure that you are harvesting the right plant, especially since some plants can have poisonous look-a-likes. To be on the safe side when you are getting started with foraging, it's best to stick to plants that don't have any poisonous look-a-likes and to stick to foraging for plants that are easy to identify like dandelions and violets.
Only Try A Small Part of the Plant at First
If you are trying a new plant that you have never eaten or used before, it's a good idea to start with just a small amount just to be on the safe side. Even if the plant you are harvesting is perfectly safe to eat, it doesn't mean that you couldn't have an allergy or sensitivity to that plant just like you could with any other food.
Try One Plant at a Time
It's a good idea to stick to trying one new plant at a time just in case you had any kind of negative reaction to using the plant. If you try more than one plant at once, it would be hard to tell which one caused the reaction, but if you try one at a time then it will be easier to tell what was causing you to have that reaction.
Make Sure You Are Harvesting Clean Plants
You also want to make sure you are harvesting plants that are clean without any exposure to chemicals that could be harmful. Even if you don't use any chemicals in your yard, it might be best not to forage for plants growing right on the edge of your property if you aren't sure whether or not your neighbors use chemicals in their yards. Some towns also spray for mosquitos along the street, so it might be best to avoid harvesting any plants that are right near the road also. And if you have any dogs or other animals then it's also a good idea to make sure that the plants you are harvesting aren't growing in a place where the animals go the to bathroom.
Common Herbs and Wild Edibles You Might Find
The plants that you will find in our backyard will vary depending on where you live, of course, but there are a few common ones that you might find if you live in the United States like I do. I have several of these in my own backyard, and they are all pretty common backyard "weeds."
Dandelions
Violets
Plantain
Clover
Wood Sorrel
Stinging Nettle
Mullein
Purslane
How to Start Foraging
A good way to start getting into foraging is to learn more about the wild plants that are growing near you. There are many videos that you can find online about identifying wild plants and also many books with helpful information about plants and foraging. If you want to learn more about identifying plants, you could search for plant identification and foraging videos on sites like YouTube (there are lots of videos like that on there!) as well as getting books about foraging or borrowing them from the library.
Here is a couple of YouTube channels that I've enjoyed watching and found helpful for plant identification:
And this website has a lot of great information about foraging and using what you forage:
Another great resource if you are able to find something like this near where you live is to go on a plant identification walk. As helpful as books and videos are, there's nothing quite as good as actually seeing a plant in person and being able to feel the texture of the leaves and smell the aroma of the leaves and flowers. If you do an online search for "plant identification walk" and the city where you live you might be able to find something local to where you are that will help you to learn more about specific plants that grow near you.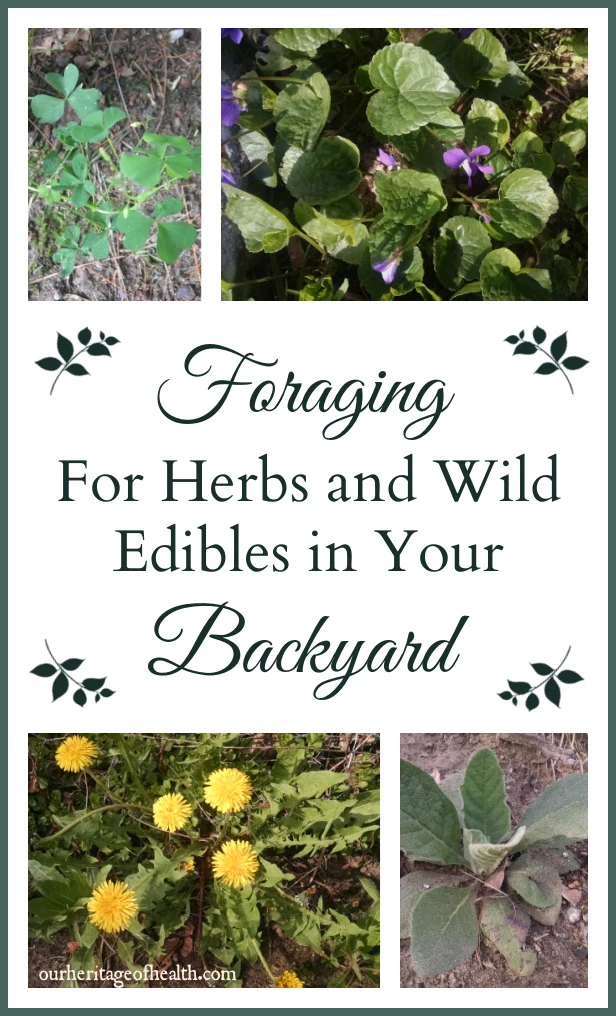 (We are a participant in the Amazon Services LLC Associates Program, an affiliate advertising program designed to provide a means for us to earn fees by linking to Amazon.com and affiliated sites.)
The information in this post is not to be taken as medical advice and is not intended to diagnose or treat any disease.