(Affiliate disclosure: I may receive a commission if you purchase something through links in this post. As an Amazon Associate I earn from qualifying puchases. See more details here:)
In my last blog post, I talked about why raw milk is healthier and about some of the benefits of drinking raw milk. But I wouldn't feel comfortable drinking raw milk from just any cow. When it comes to milk that isn't pasteurized, quality is really, really important. I would never want to drink raw milk from an unhealthy cow raised in a factory-farm environment.
What to Look For When You are Buying Raw Milk
The good news is that most farmers who sell raw milk seem to genuinely care about the way their cows are raised and about producing raw milk of excellent quality. When I was looking into finding a place to buy raw milk, these are the factors I was thinking about as far as quality is concerned:
Milk from healthy cows: I want the milk I drink to come from cows that are happy and healthy. That means absolutely no antibiotics or artificial growth hormones. It also means that the cows are well cared for and humanely treated.
Milk from grass-fed cows: I knew I wanted my milk to come from cows eating their natural diet of grass the way that God created them to eat. Milk from grass fed cows also has a much higher amount of vitamins A and D as well as omega-3s and CLA (conjugated linoleic acid). Regular grocery-store milk from cows that haven't been fed grass has to have synthetic vitamins added to it to make up for the lack of the important nutrients that are naturally present in milk from grass-fed cows.
Milk from pastured cows: This one goes along with the idea of being grass-fed, but I wanted to make sure that the milk I bought came from cows that were allowed to spend plenty of time outside in the sunshine while grazing on fresh pasture.
Milk from a farm following organic practices: I don't want my milk to be full of chemical residues from cows eating grass that's sprayed with pesticides or herbicides. I realize, though, that getting actual organic certification is not an easy process for most farmers, so I'm perfectly satisfied with getting my milk from a farm that follows organic practices even if they aren't officially certified yet.
Milk that has a cream line: Milk that has the full amount of fat and that hasn't been subjected to homogenization will have a visible line between the cream and the rest of the milk (as long as you keep the container still long enough for the cream to have time to rise to the top). I knew I wanted to drink milk with a good amount of nice rich cream so I could get the full benefit and absorption of all of the nutrients in the milk.
Where to Find Raw Milk?
To find information about where to find a good source of quality raw milk in your area, check out the Realmilk.com page here. This web page has listings by state for good quality raw milk farms in the USA. Unfortunately, raw milk isn't easy to find in some states. Hopefully someday that will change! In Massachusetts where I live, raw milk isn't available commercially in stores, but it is legal to purchase it directly from a farm. I had to travel about 45 minutes away to get my raw milk, but at least I was able to find it.
At the farm where I bought my milk, the cows are pastured and fed grass and hay, and the grass the cows feed on has not been treated with pesticides or herbicides. Even though the farm is not officially certified organic, they are very close to being organic. One of the best parts about going to get my milk was that I was able to actually see the cows out in the field grazing on the fresh spring grass. Some of them came right up to the fence where I was standing and let me pet them. It's such a beautiful sight to see happy, healthy cows roaming a pasture thick with green grass shimmering in the sunlight.
My Experience with Raw Milk So Far
I bought one gallon of raw milk to start with, but I plan on getting more soon when I get a chance to drive down to the farm again. It was really exciting to see the cream line after I had let the milk settle in the fridge for a little while. A cream line is an old-fashioned occurrence that you'll never see on regular grocery-store milk.
As far as taste is concerned, it's really hard for me to judge the taste of the raw milk compared to pasteurized milk because it's been so long since I've had a drink of regular pasteurized milk.
The raw milk definitely tastes rich and buttery and fresh. It's almost like I can taste the fact that the cows have been eating grass. Not that it tastes like grass, but it tastes like the milk came from cows eating fresh grass (if that makes any sense…)
I know a lot of people say that raw milk is one of the most amazing things they've ever tasted, but, to be completely honest, I don't feel that way quite yet. It still feels kind of weird to me that I'm even drinking milk at all after going for so many years without drinking it, so I'm definitely still getting used to the taste. Once I'm more accustomed to the idea of drinking milk, though, I'm sure the taste will seem more amazing to me as well.
So far, the only downsides I've found have been the distance I have to go to get the raw milk and the cost. (Raw milk does sour fairly quickly – what was left of my gallon went sour after about a week – but I don't really consider that to be a downside because I'm looking forward to using my sour milk for old-fashioned baking now!)
I do wish I lived closer to a raw milk dairy. Even though 45 minutes isn't too bad of a drive, it's definitely not as convenient as going to the grocery store that's only five minutes away. Raw milk is also considerably more expensive than grocery-store milk. I paid $9.50 for a gallon, which I realize is probably a fair price considering all the work the farmers put in, but it's still quite a lot of money. The cost varies depending on where you live, but raw milk is never likely to be as cheap as a store-brand of milk because of the extra costs involved in running a small farm that focuses on quality rather than on quantity.
I guess it's one of those "you get what you pay for" kinds of things. The milk is of such a higher quality, that I think it's worth the extra money, and I don't mind paying it. The cost of raw milk might not be something that some people with large families can afford on a regular basis, though. I'm not trying to buy milk to feed a family with five or six children downing huge glasses of milk every day, so a gallon of milk lasts me much longer than it would for someone with a large family.
I'm hoping that someday soon raw milk will gain in popularity and become much more accessible and affordable for everyone who wants it!
Resources:
I listed these raw milk information resources in my last post, but I want to mention them again for those who haven't read the other post:
Real Milk (a website that's associated with the Weston A. Price foundation)
Raw Milk Facts (a website with lots of great information about the history of milk, the safety of raw milk, and the benefits of raw milk)
Nourishing Traditions (a cookbook that's a great resource because, in addition to giving information about raw milk and dairy products, it also gives several recipes for what to do with your raw milk)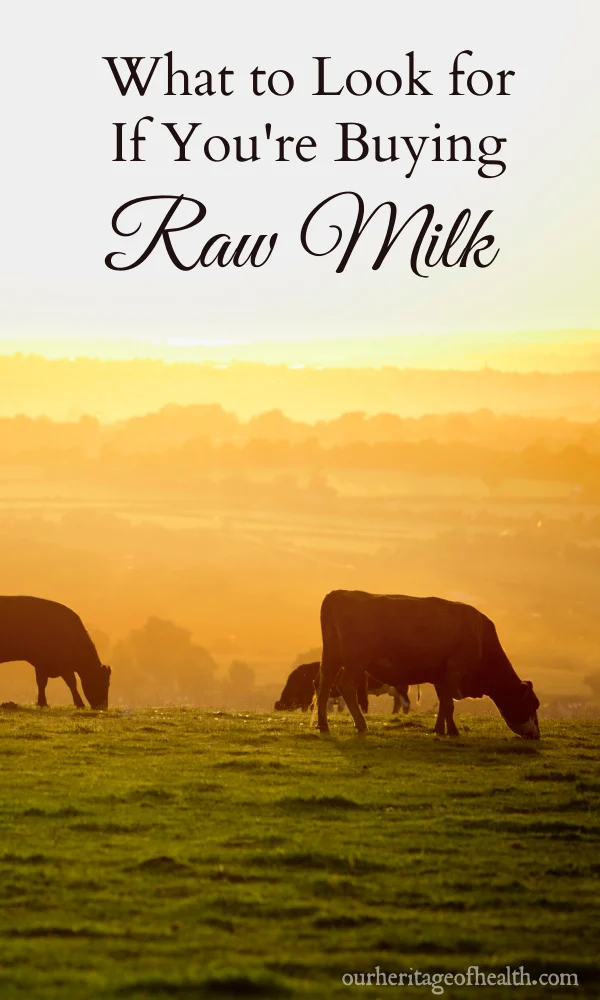 This post is linked to Sunday School at Butter Believer and Make a Move Monday at Simply Made Home.
(We are a participant in the Amazon Services LLC Associates Program, an affiliate advertising program designed to provide a means for us to earn fees by linking to Amazon.com and affiliated sites.)
The information in this post is not to be taken as medical advice and is not intended to diagnose or treat any disease.