(Affiliate disclosure: I may receive a commission if you purchase something through links in this post. As an Amazon Associate I earn from qualifying puchases. See more details here:)
Everything is better with maple syrup, and these maple-glazed carrots are no exception!
These carrots are rich and buttery with savory herbs and caramelized in plenty of maple syrup to bring out their natural sweetness.
I decided to call these carrots Scarborough Fair carrots because this recipe uses all of the herbs mentioned in the song "Are You Going to Scarborough Fair?" – parsley, sage, rosemary, and thyme.
These four herbs don't just sound nice in a song – they taste amazing in recipes, too, and they pair really well with the flavor of the carrots and the maple syrup.
I made this recipe for the first time last fall with some carrots I had just harvested from my backyard garden and fresh herbs from my herb garden, and I don't think I've ever had better tasting carrots before! I'm sure part of that was because I had grown the carrots myself, but I think the maple syrup was probably a big part of it too.
This recipe is a very simple and minimalist one, and you can use whatever amounts of carrots and herbs that you like depending on what you have available and how large of a portion of carrots you want.
One of the great things about cooking as opposed to baking is that you don't have to be exact with amounts and you can use whatever ingredients you have on hand with a very good chance that it will still taste great when you're done.
I didn't list out any exact amounts for this recipe because you can adjust it to your taste for however you prefer. If you want sweeter carrots you can use a more generous drizzle of maple syrup and just a pinch of salt, or if you want more savory carrots you can keep the syrup minimal and go a bit heavier on the salt and pepper.
I used pretty close to equal amounts of parsley, sage, rosemary, and thyme, and I was using fresh herbs, but this recipe would work just as well with dried herbs, too, and you can easily substitute any other herbs that you prefer.
Scarborough Fair Maple-Glazed Carrots Recipe
Ingredients:
Carrots
Butter
Salt
Pepper
Parsley
Sage
Rosemary
Thyme
Directions:
Peel and chop carrots and put them in a skillet over medium heat.
Saute the carrots in the butter for about 5-10 minutes, stirring frequently.
Add salt, pepper, and the herbs and continue sauteing until the carrots are getting softer and can be pierced easily with a fork. (The amount of time this will take will depend on how large your carrot pieces are since large pieces will take longer to cook.)
When the carrots are nearly done, drizzle a few spoonfuls of maple syrup over the carrots and let carrots caramelize in the syrup for a couple of minutes, stirring frequently to keep the carrots from sticking to the pan or burning.
And enjoy!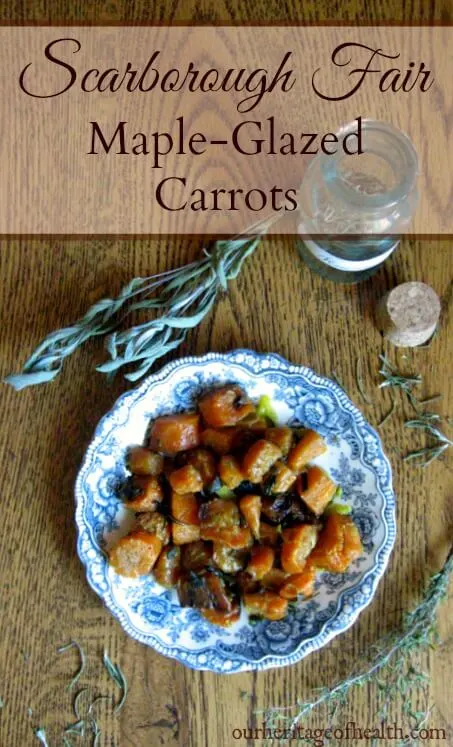 (We are a participant in the Amazon Services LLC Associates Program, an affiliate advertising program designed to provide a means for us to earn fees by linking to Amazon.com and affiliated sites.)
The information in this post is not to be taken as medical advice and is not intended to diagnose or treat any disease.