(Affiliate disclosure: I may receive a commission if you purchase something through links in this post. As an Amazon Associate I earn from qualifying puchases. See more details here:)
I first came across this recipe for an old-fashioned buttermilk cake when I was searching for a pound cake recipe to try. I was looking for a recipe for a simple cake that would be the perfect complement to a bright, summery flavor like strawberries, and this buttermilk cake ended up being the perfect cake for that.
I discovered this old recipe in an antique recipe pamphlet called "Mrs. Winslow's Domestic Receipt Book for 1870." This is the text of the original recipe for those who are interested in the historical version of the recipe:
"One cup butter, two cups buttermilk, soda to sweeten the milk, three cups sugar, four eggs, five cups flour."

Mrs. Winslow's Domestic Receipt Book, page 15
Not exactly a lot of information as far as how to prepare or bake the cake, but that's pretty typical of a lot of 19th century recipes. This recipe was a bit of an experiment because I was just guessing at how much baking soda I should use to "sweeten the milk" and I decided to go with a standard 350 degree baking temperature and just keep checking it until a toothpick came out clean.
I cut this recipe in half because I didn't need such a large amount, and I also decided to add just a small amount of salt to the original recipe because I was using unsalted butter, and I am assuming that the butter used for this original recipe back in the 19th century would have been salted butter. You can omit the salt if you are using salted butter, though.
This cake is a very simple and somewhat plain cake, so it doesn't have a whole lot of strong flavor on its own, but it has a pleasant, slightly sweet flavor, and the edges of the cake have a nice caramelized taste to them. If you wanted to add a bit more flavor to this cake, though, you could add a teaspoon of vanilla or lemon extract if you prefer. I chose to leave the cake plain as it is because I wanted to try to replicate the original recipe and because vanilla wasn't a common flavoring in the 19th century. Lemon was often used, though, so I might try making this with lemon in the future.
I think that the simplicity of this cake makes it the perfect cake for highlighting stronger flavors such as summer fruit like strawberries, blueberries, raspberries, etc. I decided to have some strawberry sauce with my buttermilk cake because that seemed like something that might have been served with this cake back in the 19th century. You could certainly use a modern frosting recipe, though, too, to give this cake some extra sweetness. I also tried this cake with some strawberry buttercream frosting, and it was delicious!
I used store bought buttermilk for this cake, but since this is a 19th century recipe, I'm assuming that the buttermilk the recipe refers to would have actually been the liquid that remains after churning butter from cream. Since I don't have my own dairy cow, though, and since I'm not churning my own butter at home, I used store bought buttermilk, and the recipe turned out just fine. If I ever did some homemade butter making in the future, though, I'd be curious to try using the buttermilk from that to see if it makes any difference in the recipe at all.
Here's my modern adaptation of this old-fashioned, 19th century recipe:
Old-Fashioned Buttermilk Cake Recipe from 1870
Total Time:
1 hour
10 minutes
This old-fashioned buttermilk cake recipe from the 19th century comes from "Mrs. Winslow's Domestic Receipt Book for 1870." This simple cake has a soft texture and a pleasantly sweet and mild flavor that makes it the perfect cake for highlighting stronger flavors such as fruit.
Ingredients
1/2 cup butter, softened
1 cup buttermilk
1 1/2 cups sugar
2 eggs
2 1/2 cups flour
1 1/2 tsp baking soda
1/4 tsp salt (you can omit if using salted butter.)
Instructions
Preheat oven to 350 degrees and grease a 8x8 inch baking pan.
Cream the softened butter together with the sugar.
Add the eggs and the buttermilk and mix well to combine.
Mix the baking soda into the flour to make sure there are no lumps of baking soda, and then add the flour to the wet ingredients, stirring to combine.
Pour the batter into a greased 8x8 inch pan and bake at 350 degrees for about 50-55 minutes or until the cake is golden brown and a toothpick inserted in the center comes out clean. The top and edges of the cake will look quite brown before the cake is fully done in the center.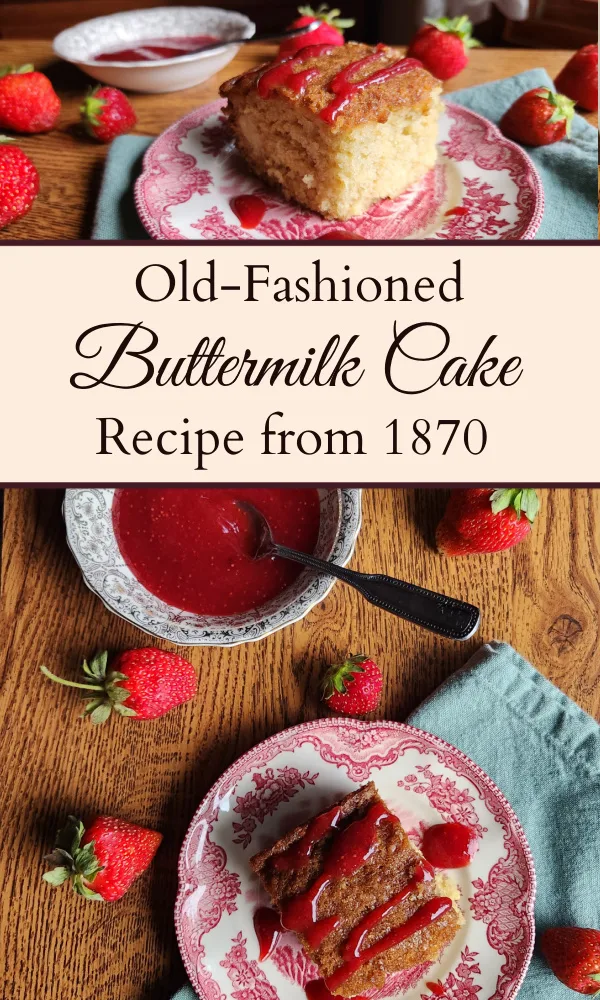 (We are a participant in the Amazon Services LLC Associates Program, an affiliate advertising program designed to provide a means for us to earn fees by linking to Amazon.com and affiliated sites.)
The information in this post is not to be taken as medical advice and is not intended to diagnose or treat any disease.