(Affiliate disclosure: I may receive a commission if you purchase something through links in this post. As an Amazon Associate I earn from qualifying puchases. See more details here:)
Vacation. Whether you're new to the world of healthy real food or not, chances are that one of the first things you think of when you hear that word is "What on earth am I going to eat?!" Vacations can be challenging enough when it comes to all of the packing and preparing and planning, but when you're also trying to figure out how to eat healthy real food on vacation when you're away from home it can be even more challenging.
It's pretty hard to go from avoiding foods with artificial flavors, preservatives, etc. to suddenly eating those foods at every single meal. Now that I've gotten used to eating real, home-cooked food on a regular basis, I can't help thinking about the quality of the ingredients in the food I eat and wondering where those ingredients came from.
Just recently I was away in Virginia and Pennsylvania for a week, and it reminded me of how different my diet is now from the way it used to be. I can't believe some of the foods that I used to eat and enjoy! The waffles and muffins that always seemed to taste so good at hotel breakfasts now just seemed bland and spongy and unappetizing, and the "maple" syrup (that had no real maple in it whatsoever) was no comparison to my beloved 100% pure maple syrup.
Even with all of the compromises I ended up making, I still managed to find some ways to eat healthy on vacation. It's a bit of a challenge, but with a little bit of planning ahead it is possible to still eat some healthy real food when you're away from home.
Here are a few of the things I did to eat healthy on vacation:
4 Tips for How to Eat Healthy Real Food on Vacation
1) Bring Food from Home With You
There are a lot of things you can buy or make ahead of time to bring with you when you go on vacation, especially if you know you're going to have access to a mini fridge in the hotel where you're staying. Whenever I know there will be a fridge, I pack fresh fruits like raspberries and blueberries; lettuce, green beans, cucumbers and other veggies; grass-fed cheese to go with homemade or organic store bought crackers; homemade jello or fruit snacks, etc. And I sometimes do some baking ahead of time, too, so I can bring some homemade sourdough bread or muffins with me for breakfasts or snacks.
If you don't have access to a mini fridge, though, or if you are traveling from place to place where you need to leave things in a hot car while you sight-see, there are still several healthier non-perishable items you can bring with you. Here are a few ideas of things to bring:
Sprouted mixed nuts or trail mix
Dried fruits
Homemade or organic store bought crackers
Homemade fruit snacks (these might get a little melty in the heat, but they'll keep)
Einkorn cookies (I like the ginger)
Soy-free chocolate (I bring a mini cooler and fill a Mason jar with ice from the ice machine as a substitute ice pack so the chocolate doesn't melt in the hot car.)
Here are some other ideas for healthy easy snacks to bring when traveling.
2) Shop at Health Food Stores While You Travel
If you're staying at a place with a fridge, you can pick up quite a few real food snacks by finding a health food store in the area where you are staying. If you end up staying somewhere that has a kitchenette then you can really do a lot to prepare and cook foods that are similar to what you would have at home. Even if all you have is a fridge, though, you can still buy fresh organic fruits and vegetables, cheeses, etc.
You might even be able to find a health food store that has a little cafe area where you can buy some pre-prepared meals. It won't be quite the same as home cooking, but you might be able to find something that's a little better quality and a little more "real" than the typical fast food and overpriced tourist food.
3) Find a Farm Stand or Farmer's Market
If you're vacationing in a more rural area, you might stumble upon a farm stand or even a farmer's market where you can buy fresh local produce and other specialty items like homemade breads or other baked goods. You might even be able to find some pastured eggs or grass-fed meats if you have access to a kitchenette to cook them in.
While going through northern Virginia, I found a little farm stand tucked in the middle of a quaint little town, and it had organic fruits and veggies as well as a little café that served salads and sandwiches. It was a beautiful little spot in the hills of the Shenendoah Valley, and I had one of the most delicious peaches there that I've even eaten.
On another trip near Niagara Falls on the Canadian side, I got some nectarines, plums, and green beans at a farm stand along the road, and it was really nice to have some fresh produce to go alone with all of the not-so-fresh tourist food I had eaten.
4) Just Relax and Enjoy!
Vacation is one time when it's definitely best to put the 80/20 rule into action. I wouldn't be surprised if I just used up my whole 20 percent for the year on this one vacation, but I had a great time and I saw places that I never would have seen by just staying at home, so it was totally worth it to me to compromise on my usual food for a week.
Unless you have a food allergy or intolerance, the best plan it just to try to relax and take the focus off of food for a week and focus on having a fun time instead. If you know that eating a certain food will make you feel sick then try to avoid that food as much as possible, of course, but otherwise, it's best to just try not to stress about what you eat. If you spend your whole vacation worrying about food, then you'll be too stressed out to enjoy anything else!
When I was in the Lancaster area, I ate at one of the smorgasbords (because you can't go through Lancaster and not eat at one), and for dessert I had a slice of Shoo-fly pie. Did the filling have GMO corn syrup in it? Probably. Was the crust made with vegetable shortening? Most likely. But I decided to ignore all of that and just thoroughly enjoy each bite. And it was delicious!
So, the moral of the story is, do what you can to keep eating "real," but, if you can't eat healthy real foods for every meal then just try to relax and enjoy your vacation!
What are some of your tips for eating real on vacation?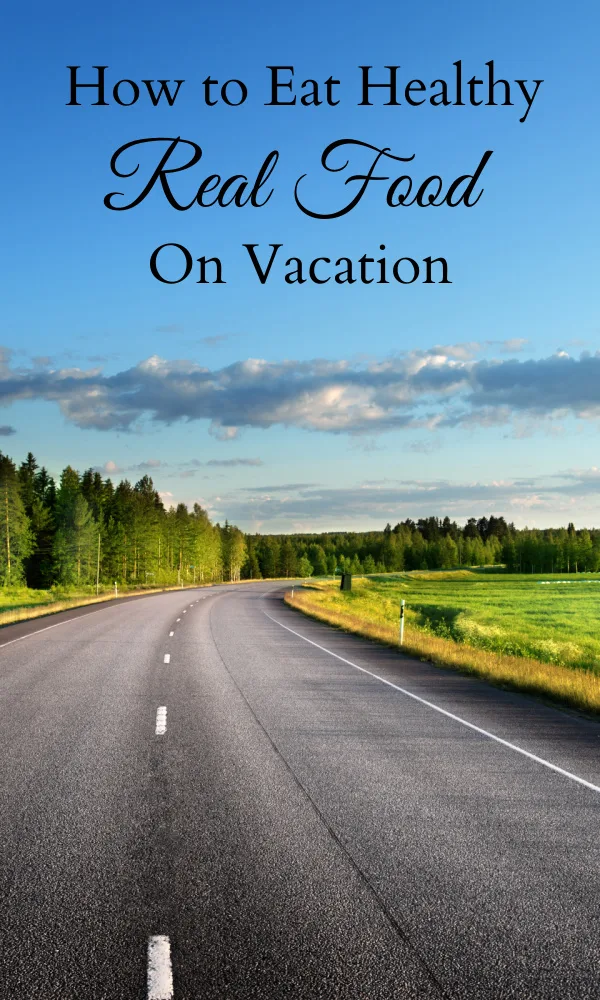 This post is shared with: Sunday School at Butter Believer, Party Wave Wednesday at Holistic Squid, Natural Living Link-Up at Jill's Home Remedies, Frugal Days Sustainable Ways at Frugally Sustainable.
(We are a participant in the Amazon Services LLC Associates Program, an affiliate advertising program designed to provide a means for us to earn fees by linking to Amazon.com and affiliated sites.)
The information in this post is not to be taken as medical advice and is not intended to diagnose or treat any disease.