(Affiliate disclosure: I may receive a commission if you purchase something through links in this post. As an Amazon Associate I earn from qualifying puchases. See more details here:)
When we think of all of the ways that we communicate on a daily basis, the first things that come to mind are usually our conversations, the words we speak or write to other people, or even our tone of voice and facial expressions. What we don't always think of, though, is the fact that our clothing is also communicating for us.
The clothes that we wear can send messages about who we are just as much as our words can. The problem is that sometimes, without our even being aware of it, our clothing can send the wrong message about us.
I recently came across a resource that taught me which Type of Beauty I am and completely changed the way I think about the clothing that I choose to buy and wear. It's called Dressing Your TruthTM, and its Energy Profiling system takes into account who you are as a whole person and teaches you how to make sure that your clothing sends a message that is a true reflection of who you really are.
The Four Different Types of Beauty
In the Dressing Your Truth program, there are four different Types of Beauty:
The bright, animated TYPE 1 SM woman.
The soft, subtle TYPE 2 SM woman.
The rich, dynamic TYPE 3 SM woman.
The bold, striking TYPE 4 SM woman.
Each of these Types of Beauty takes into account different aspects such as facial features, levels of movement and energy, body language, behavioral tendencies, thoughts and feelings, use of personal space, and gifts and talents. So, compared to other clothing and beauty programs that focus only on color or skin tone, this one covers a lot!
I love the fact that it's so thorough and that it explains how different colors and styles of clothing can send a message that is either in harmony or in disharmony with who you are as a person.
It's really nice, too, to have something that is so specific and personalized for me. Whenever I would go shopping before, I would just buy whatever seemed like it was in style that year, and when some clothes just didn't "work" for me, I never really knew why that was. When I go shopping now, though, I know exactly what to look for, and I don't have to waste a lot of time trying on clothes that aren't right for me.
More Than Just About Beauty and Clothing
The thing that I really love about Dressing Your Truth, though, is the fact that it's about so much more than just clothing and jewelry and accessories. Learning about which Type of Beauty I am has given me more insight about myself and helped me to understand myself better.
Learning about the four Types of Beauty is also helping me to understand and relate to other people in my life too. I know now, for example, why my mother would always tell me to hurry up and do things faster and stop taking so much time with what I was doing. It was just her TYPE 3 active nature needing to get things done responding to my more thorough and detail-oriented TYPE 2 nature. Knowing this about each other helps us both to be less frustrated and more patient with each other.
How to Figure Out Your Type of Beauty
Once I heard about the four different Types of Beauty, I was really curious to figure out which one I was, so I completed the free online course to figure out my Type of Beauty. This free course explains the four different Types of Beauty in detail and gives you examples so you can figure out which one resonates the most with you.
After the first few sections of the course, I was starting to think that I might be a TYPE 2 woman, and by the time I had finished the course, I was sure of it. I could also relate to a lot of the qualities of the TYPE 4 woman, but the TYPE 2 woman was the one that I could relate to the most.
After figuring out my Beauty Profile, I went through the full Dressing Your Truth course for TYPE 2 women to learn all of the details about how to apply what I learned about my Type of Beauty to my clothing, hair, and makeup. In my next post, I'll talk more about my experience with going through the course and about how it's changed the way that I shop for clothes and given me a better understanding of myself.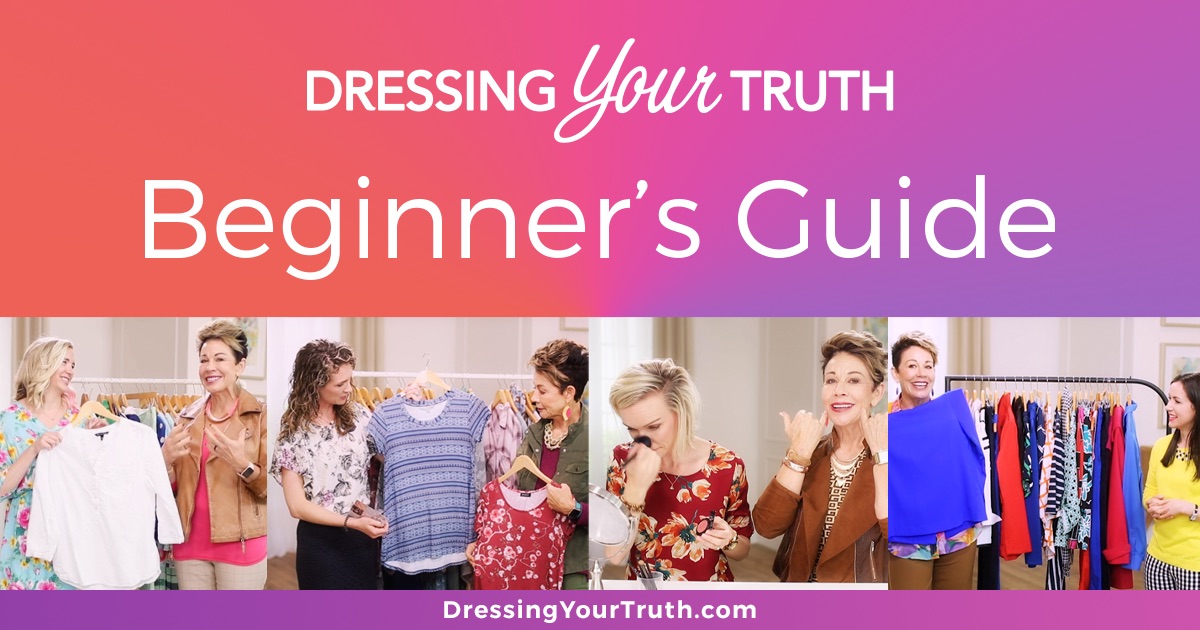 Other Posts in the Dressing Your Truth Series:
Other Dressing Your Truth posts:
Are Your Clothes Talking for You?
3 Reasons Why You Are Still in Your Pajamas
Closet Makeover – Bye-Bye Black – Dressing Your Truth
My Transformation – Dressing Your Truth
(We are a participant in the Amazon Services LLC Associates Program, an affiliate advertising program designed to provide a means for us to earn fees by linking to Amazon.com and affiliated sites.)
The information in this post is not to be taken as medical advice and is not intended to diagnose or treat any disease.